Russia warns of investor flight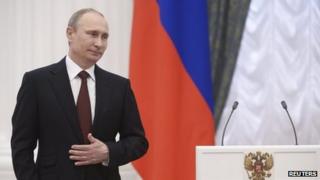 Russia expects investors to move up to $70bn (£42bn) of assets out of the country in the first three months of this year.
The sign that investors are becoming nervous about Russia comes amid sanctions and tensions over Ukraine.
Speaking to reporters on Monday, Andrei Klepach, Russia's deputy economy minister, also warned of stagnant growth and rising inflation.
He expects growth in the first quarter to be "around zero".
The Russian economy grew by just 1.3% last year, but Mr Klepach said it was "too soon" to talk about "a recovery from stagnation".
"There won't be a recession, but there is a problem of stagnation: it's length and depth," Mr Klepach said.
"Unfortunately the investment slump is continuing. I'm not ready to say how long it will continue."
The Russian economy ministry forecasts suggest $65-70bn of assets would be taken out of Russia this quarter, but Mr Klepach said the figure was likely to be closer to $70bn.
That would mark a significant rise on 2013, when capital outflows for the entire year totalled $63bn.
Mr Klepach said sanctions imposed by the US and EU in the wake of the Ukraine crisis had yet to have a significant impact, but said "worsening of relations is a significantly negative factor for economic growth and correspondingly influences the capital outflow."