UK's Russia nuclear deal under review over Ukraine crisis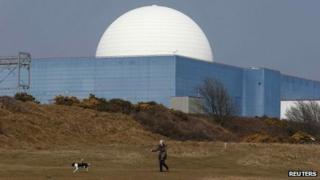 The UK is reviewing its nuclear co-operation agreement with Russian state firm Rosatom because of the Ukraine crisis.
The Department of Energy and Climate Change (DECC) said the agreement was "under consideration" following Russia's military takeover of Ukraine's Crimea region.
The UK signed a pact with Rosatom last September, aimed at helping the firm enter the UK market.
Rosatom declined to comment.
"No decisions have been made on how this work will be taken forward, which is under consideration in the light of recent developments in Ukraine," a DECC spokesperson told the BBC.
The move comes as both the US and EU have imposed travel bans and asset freezes on pro-Russian officials in Crimea and supporters of President Putin after Russia took control of the peninsula.
The UK's agreement with Rosatom was aimed at giving it guidance on its nuclear regulation, potentially preparing it to enter the British market.
Rosatom had also signed deals with Finnish utility Fortum and Rolls-Royce to help it ensure its reactors would meet British regulatory standards.
A Fortum spokeswoman told Reuters that the agreement was now uncertain.
"Since the political situation is evolving rapidly, it is not easy - if even possible - to draw conclusions on the future development of affairs," she said.
Rolls-Royce declined to comment.
The UK has courted international investors, in a bid to help it replace its ageing nuclear power plants.
Last October, Britain signed a deal with France's EDF to build the UK's first new plant in 20 years.