South Africa mining strike damage is 'irreparable'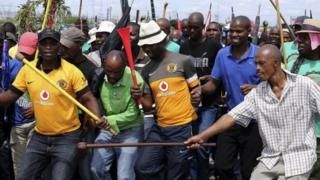 Leaders of South Africa's platinum mines have said the nine-week long strike by workers has caused 'irreparable' damage and has cost the sector nearly $1bn.
Miners at Anglo American Platinum, Lonmin, and Impala Platinum want their pay to be doubled.
But the companies said they cannot afford to meet the workers' demands.
The strike has damaged mining communities in the platinum belt northwest of Johannesburg, they said.
Crumbling trade
"Mines and shafts are becoming unviable; people are hungry; children are not going to school; businesses are closing and crime is increasing," the companies said in a joint statement.
The sector had lost "close to 10bn rand ($920m) in revenue" they said.
Miners were reportedly having to sell cattle to make up for the shortfall in their wages, which, across tens of thousands of workers, amounts to 4.4bn rand ($406m).
Local businesses have reported falling trade as large numbers of migrant workers have gone home.
'Open to talks'
Discussions between the AMCU union and the three biggest platinum produces have come to a halt.
Unions want the workers' basic salary increased to 12,500 rand ($1,155; £702) a month for the lowest paid workers over a period of four years.
Anglo American Platinum said this would represent an average annual increase of 29%, which they said was "unaffordable".
But the companies said they were open to talks "within a reasonable settlement zone".
The strike is the largest since the apartheid era ended in South Africa and has dented 40% of the world's platinum production.
South Africa is experiencing slow economic growth and one in four people in its population are unemployed.
Job cuts
The unions' powerful umbrella group, the Congress of South African Trade Unions (COSATU) said it was behind the call but said the union representing the strikers was irresponsible for taking workers on "such a long strike".
It said there were "no prospects of achieving the demands".
COSATU also said the South African government should get involved.
South Africa's deputy president is set to meet the mining industry and unions on Thursday, which he does regularly.
The companies have said there could be long-term restructuring and large-scale job cuts in an industry that employs more than 100,000 people.
"Sadly, as the industry progresses towards greater mechanisation and higher skills levels, which are aligned with higher earnings and greater productivity, so the number of people employed in the industry will decrease," they said.