Candy Crush games developer King valued at over $7bn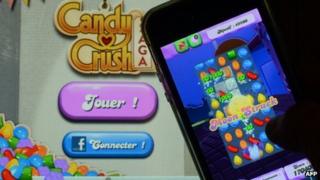 The games developer behind Candy Crush Saga, King, has been valued at over $7bn (£4.2bn) after it raised $500m listing on the New York Stock Exchange.
It sold 22.2 million shares priced at $22.50 per share - the mid-point of the range the firm had initially set.
King said it plans to use the money raised for "working capital" and "other general corporate purposes, which may include acquisitions".
Candy Crush was the most downloaded free mobile app of 2013.
It is the most popular offering from King - which has a portfolio of of more than 180 games.
The game's popularity saw King's revenues rise to $1.8bn in 2013, from just $64m two years ago.
But there have been concerns that the firm relies too heavily on Candy Crush and that if its popularity faded, the company's revenue and profits would be hit.
According to the company, its top three games - Candy Crush Saga, Pet Rescue Saga and Farm Heroes Saga - accounted for 95% of its total revenue in the fourth quarter of 2013.
The firm's shares will start trading on the New York Stock Exchange on Wednesday.