Santander UK fined £12.4m by FCA for poor advice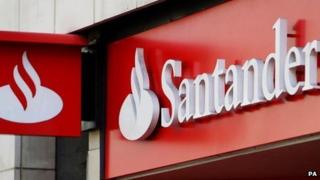 High Street bank Santander UK has been fined nearly £12.4m by the UK financial watchdog over failures in investment advice in its branches.
The Financial Conduct Authority (FCA) said that there was a risk that Santander customers could have been given unsuitable advice.
This is one of the biggest fines levied on a bank for such shortcomings.
The bank has apologised and will contact affected customers who could be in line for compensation.
Failings
Tracey McDermott, director of enforcement and financial crime at the FCA, said that Santander had "let customers down badly".
"Customers trusted Santander to help them manage their money wisely, but it failed to live up to that responsibility," she said.
"If trust in financial services is going to be restored, which it must be, then customers need to be confident that those advising them understand, and are driven by, what they need."
Among the failures identified by the FCA were:
Advisers failed to consider how much risk customers were willing to take with their investments
A failure to ensure that customers were given clear advice
Ongoing checks to ensure that investments were suitable were not carried out for Premium Investment customers
A failure to make sure new advisers were properly trained before being allowed to give investment advice
Poor advice was not always picked up owing to poor monitoring
Santander stopped giving investment advice in branches in late 2012, after concerns about operations were raised by the regulator at the time, the Financial Services Authority.
Overhaul
Steve Pateman, head of UK banking at Santander, said that there had been very few complaints from customers.
"We regret that elements of Santander UK's historic branch-based investment sales processes did not meet the required regulatory standards and apologise to any customers who have concerns," he said.
He said that the bank had responded quickly to concerns. Since December 2012, it has completely overhauled its branch-based investment advice service and was confident that mistakes would not be repeated.
The FCA said the value of the stock markets had risen since many of these investments were first made, so customer losses could be relatively small.
Those who held a Premium Investment, promoted as offering a tailored service, could be given compensation if they paid for a service they did not receive.
Santander has been fined before by the City regulator. In February 2012 it was fined £1.5m for being too slow to explain to customers whether investments were covered by the Financial Services Compensation Scheme safety net.