China Eastern Airlines full year profit falls 25% on weak demand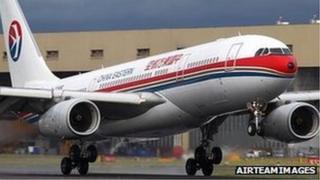 China Eastern Airlines has suffered a 25% fall in earnings due to weak demand in results that reflect competitive pressures in China's aviation industry.
Full year net profit for 2013 amounted to 2.38bn Chinese yuan ($387m; £234m).
Earlier this week its rival Air China posted a 32% fall in full year profit.
Both carriers said tougher competition is affecting profitability, with pressures mainly coming from low-cost airlines and a newly launched high-speed rail network.
Last month the government unveiled guidelines to jump-start the country's young budget airline industry, which included pledges of financial support. China's aviation regulator also said it will simplify approvals for new low-cost airlines.
These potentially new entrants will draw away customers from China's big three carriers - Air China, China Eastern and China Southern.
In addition, the recent launch of a high-speed rail network has offered commuters and travellers another alternative for getting around the country.
Austerity impact
An austerity drive by the government is also having an impact on the airlines' earnings.
While the carriers are operating at around 80% capacity, the Chinese airlines have been struggling to fill seats in the business and first class cabins, as Beijing had issued a clampdown on lavish spending by government officials, including luxury trips abroad.
According to local media, China Eastern lost about one million premier clients, which translated to a loss of over 1bn Chinese yuan in revenue last year.
"The impact of the anti-graft campaign won't go away quickly, and airlines need to live with it," said Ma Chulun, president of China Eastern Airlines.
In January this year, the country's Central Committee headed by Premier Li Keqiang launched the second round of its anti-decadence campaign in an attempt to deter corruption.