Why the energy competition inquiry matters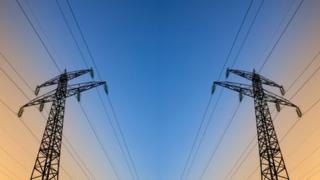 When the UK retail energy market was opened up to competition in the late 1990s, there were about 15 suppliers having a crack at getting a piece of the action.
Now, that group has shrunk to half a dozen. These major energy suppliers, known as the "big six", account for at least 95% of the UK's energy supply market.
They are SSE, Scottish Power, RWE Npower, E.On, EDF Energy and the owner of British Gas, Centrica.
That is a bigger crowd than in many European countries, but politicians and commentators have been lining up for years to say the industry is fundamentally uncompetitive and blocks smaller players from getting involved.
Now we are closer to getting an official answer to that claim.
Referring the market to the Competition and Markets Authority - the new competition body, regulator Ofgem asked the CMA "to consider once and for all whether there are further barriers to effective competition".
Big questions
What does this mean for you and your household bills? The inquiry will basically decide whether you are or are not paying too much for your gas and electricity, because prices are or are not being brought down by competition.
The regulator did not find a smoking gun of collusion. There is no evidence of the energy companies sitting around in a darkened room to agree on how much to charge people.
But the question was raised about "tacit coordination", a bit of jargon that means that energy companies could predict what each other were doing on prices. That meant they did much the same on prices at much the same time.
There was also a pattern of suppliers raising prices more quickly than they cut them when costs fell, the regulator said.
New figures from Ofgem predict that the major energy companies will make a pre-tax profit margin of £88 on an average annual consumer bill of £1,356 in the next 12 months. That's a profit margin - the difference between the price they charge consumers and the costs they have for delivering energy to them - of 6%.
The competition inquiry will consider whether this is an acceptable or excessive profit.
Other central questions will include:
The link between energy generation and supply. Do big energy companies block out competition by selling energy to themselves before selling it on to customers?
Is it competitive when a huge chunk of customers stick with the same supplier for years, meaning that the market share of the big six hardly changes?
Why do customers fail to switch to other deals from other suppliers? Is this the result of a lack of information? Are bills still too complicated?
These queries have been around for a few years, but that first question could be the most significant for the companies.
As a former regulator said, it is a bit like airlines owning airports and selling landing slots to themselves, but it could actually mean reduced costs and cheaper bills.
The CMA, unlike Ofgem, has the power to break up the energy companies, such as cutting the link between generation and retail.
Political picture
Sam Laidlaw, Centrica chief executive, told the BBC that while energy companies waited for the conclusion of the inquiry, there could be an effect on investment in the industry.
Why would they invest in an energy generation plant, for example, if there was a risk of that being taken away from them were competition authorities to order the big companies to split up?
The competition authorities do have form when it comes to ordering "monopolies" to split up. For example airports operator BAA was forced to sell Gatwick airport.
This inquiry will take 18 months, and only after some consultation. So that means no answers until 2016 at the earliest.
This timing is significant politically. It means that the inquiry will not have finished before the general election.
Any politician who wants to avoid the subject - which is a big battleground between the major parties - can point to the fact that they do not want to pre-judge what the inquiry might find.
The energy companies will also want the political Punch and Judy shows to die down.
"It is important that the CMA is now left to get on with its job, free of distraction so that it can conduct a thorough review and produce authoritative answers," says Keith Anderson, chief corporate officer of Scottish Power.
"It will be equally important not to pre-empt this evidence-based process, in order to retain the confidence of investors during the period of the investigation."
In the meantime, the prices customers pay are not predicted to change too much, but still represent a big chunk of household outgoings. They will hope that this inquiry gets to the bottom of whether the price they pay is fair.