Can big food firms get us to eat more healthily?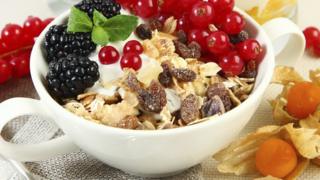 Thirty years ago Tony the Tiger, Snap, Crackle and Pop grinned out at you from the supermarket shelf, and the next thing you knew, the sugar-coated cornflakes and puffed rice were being wolfed down at the breakfast table by a circle of cheerful kids.
These days Kellogg's colourful brand ambassadors have a much harder job on their hands.
At the company's site in Manchester, the head of nutrition for the UK, Alexa Hoyland, pours out a tray full of what are supposed to look like tiny helicopter rotor blades in a pale cocoa-flavoured shade of brown.
About the size of a squashed pea, a Croco Copter in the mouth is very dry and crisp, and distinctly less sweet than a mouthful of Coco Pops or Frosties, two of Kellogg's long-established brands.
"We've made lots of changes," says Ms Hoyland.
"Last year we launched four new lower-sugar products for children.
"We were listening to consumers, we understand they want that choice so we've offered those foods."
Manchester is the company's largest manufacturing site outside of the United States, serving customers across Europe - who are increasingly demanding healthier options.
As the question of how to tackle obesity moves up the political agenda, food firms like Kellogg's are coming under pressure to focus on more than just taste.
With new lower sugar brands like Croco Copters, Kellogg's is working hard on the fun shapes and the marketing to make up for lack of calories.
'Balanced diet'
Kellogg's and other big food companies insist they can play a big role in changing our diets without government regulation or restrictions.
"It is a complex societal thing that needs answers from all sides and definitely Nestle wants to be part of the solution," says the Swiss company's chairman, Paul Bulcke.
He points to Nestle's widening portfolio of lower sugar and lower fat offerings.
"We can drive research and development and science solutions, so people can have a balanced diet."
Consumers, Nestle hopes, will stick with brands and products that they already know, even as the recipes are tweaked. And some other businesses have already made a start.
'Just good business'
A study published earlier this year in the US found that 16 of the country's biggest food firms have reduced the number of calories in their products by over six trillion in five years.
That's four times the original target.
Campbell's has served up "light" canned soup, Nestle has reduced the sugar in Nesquik by a quarter, and General Mills is selling low-calorie Greek yoghurt.
It is not a pang of conscience that is driving the change, but a growing realisation that this makes financial sense, says Hank Cardello, who has previously been an executive at some of America's biggest food firms, including Coca Cola, General Mills and Cadbury Schweppes (now Dr Pepper Snapple).
"It's just good business - there's a segment of consumers out there that's insisting on taking care of themselves a little better," he told BBC World Service.
As that segment grows, he says, financiers are also shifting focus.
"If you are Wall Street looking at these companies, the ones that are with the programme are the ones that are worth investing in."
Maintaining investor confidence
Someone who has seen this kind of change at first hand is former Pepsi executive, Derek Yach.
When Indra Nooyi took over as chief executive of Pepsi in 2006, she had a new, healthier vision for the company.
She brought in Mr Yach, a health policy expert previously at the World Health Organisation, as a senior vice-president. He only left last year.
"Having been there I can tell you that the discussion at the top of the company is around how we can actually go faster," Mr Yach says.
Since the 1990s Pepsi has sold off brands like Pizza Hut, Taco Bell and KFC - and replaced them with more seemingly wholesome lines including Quaker Oats and Tropicana.
But maintaining investors' confidence, and the profitable legacy brands, while changing focus is no easy task, says Mr Yach.
"It's like trying to rewire a plane while it's in flight."
'Flooding the market'
But New York University food expert, Prof Marion Nestle, says you need to take the companies' words with a pinch of salt. Their pursuit of profits won't always benefit public health.
"The American food and beverage industry spends $17bn a year to establish a food and drink environment so that people think drinking soft drinks all day long is normal - that it's normal for kids to drink soda instead of water," she says.
Moreover, Barry Popkin, professor of nutrition at the University of North Carolina, says outside North America and Europe, food companies are marketing their products in the slums and selling door-to-door what we would call junk food.
"Coke, that [in the US] promotes its Coke Zero and Diet Coke and water is, in Brazil and China, flooding the market with sugary beverages and quadrupling their sales every year."
Companies like Kellogg's should return to their roots, Prof Popkin says.
"Kellogg's started with no sugar, minimal fat, healthy products - then they added sugar.
"They didn't have to do it. You have to look at where they came from, where they could go back to."
Sugar-free options
But radically reducing sugar now would be hard.
As Alexa Hoyland at Kellogg's points out, not all consumers are ready.
"Very large changes can alienate a consumer, so when we change a food we have to make sure we bring them with us."
Kellogg's moment of truth came a few years ago when they tried marketing a line of lower sugar Frosties, she says.
"It didn't sell, Frosties is a product people understand. It's a cornflake covered in sugar."
"If they'd wanted a lower sugar option they'd have bought cornflakes."
To hear BBC World Service's special coverage looking into ways to tackle the global obesity epidemic, download the Business Matters podcast.