City watchdog to probe 30m financial policies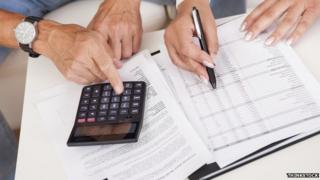 The City regulator is to investigate firms running 30 million old insurance policies worth £150bn over concerns about "unfair" terms and conditions.
The investigation will look at pensions, endowments, investment bonds and life insurance policies sold in the UK between the 1970s and 2000.
The Financial Conduct Authority (FCA) will look into policies which penalise savers who want to switch providers.
Insurance firms' share prices dropped in trading on Friday as a result.
Later on Friday the FCA issued a statement in response to concerns about how it had handled the release of the news about its investigation.
"The Board will conduct an investigation into the FCA's handling of the issue involving an external law firm, and will share the outcome of this work in due course," it said.
'Disorderly market'
One of Britain's leading insurers told the BBC: "We await a proper announcement about the pensions review which appeared to have been part-briefed to a newspaper today.
"We regret the disorderly market in the shares in our company and other stocks that ensued."
Resolution, which owns Friends Provident, Legal & General and Aviva were among the biggest fallers on the FTSE 100 in London, just days after share prices were hit by George Osborne's plans for an overhaul of the UK's pension system, and a cap on pension management fees.
On Friday afternoon insurance chiefs said they would "work closely" with the FCA on its inquiry.
"Insurers do take their Treating Customers Fairly obligations very seriously, and company boards regularly review all aspects of product design, customer servicing and product performance," said Hugh Savill, director of regulation at the Association of British Insurers (ABI).
'Zombie' funds
The FCA said it was concerned that companies were allowing old policies to stagnate, and were not giving the same priority to policies sold years ago as they did to new policies.
A large number of policies sold to consumers in the 30 years leading to the millennium include terms that penalise those attempting to switch to a cheaper provider.
Some savers face losing up to half of their savings if they move to another company.
The FCA also said it feared "zombie" funds, which are closed to new clients, are being used by insurers to pay bills from other parts of their businesses.
Details of the investigation will be published on Monday, as part of the FCA's annual business plan.
But concerns that will be covered include:
Fears that changes are being made to investments to benefit firms, not customers
Worries that "unfair" overheads are allocated to historic funds
Concerns that companies are failing to regularly review these policies
Issues over the communication sent by companies to policyholders
Clive Adamson, the FCA's director of supervision, said: "We want to find out how closed-book products are being serviced by insurance companies.
"As firms cut prices and create new products, there is a danger that customers with older contracts are forgotten. We want to ensure they get a fair deal. As part of the review we will collect information to establish whether we need to intervene on exit charges.
"Consolidation and outsourcing within the insurance industry means that policies taken out 10, 15 or 20 years ago are unlikely to be managed by the same brand, and by people in the same building, as they were at their outset.
"We want to make sure that customers who have been 'sold on' are treated fairly. Some terms and conditions that were common 20 years ago are not what we would want to see now."
The review will begin in the summer and could take a considerable amount of time. It will not look at each policy in detail, but at the way firms deal with them.
'Chunky'
Independent pensions expert John Ralfe told BBC Radio 4's Today programme that "there's a very large amount of money at stake".
"It's £150bn in total," Mr Ralfe said. "That's quite a chunky piece of work for the FCA to be looking at."
He added that the FCA seemed to be saying that, rather than fining pension companies, the remedy was for individuals to exit these private pension policies without penalty.
However, the regulator said it would not do so if these fees were compliant at the time the policy was bought. It was not going to apply current standards to these fees.
Meanwhile, financial services adviser Bestinvest said it had looked into these policies and found many to be poorly performing but also very complex.
"The FCA review is therefore most welcome, and long overdue, but they really have their work cut-out for them," said David Smith, wealth management director at Bestinvest.
"While old-style contracts often had drawbacks, some also offered valuable features, in particular guarantees covering investment growth and annuity rates."
The financial services industry has been scarred by several high-profile scandals during the past few decades involving the mis-selling of policies such as mortgage endowments, personal pensions and payment protection insurance.
Millions of endowment policies were sold in the 1980s and 1990s, typically as a method of repaying mortgages, often with unsubstantiated claims that they were guaranteed to pay off the customers' home loan. Millions of pounds were subsequently paid in compensation.