Alibaba invests $692m in Chinese mall operator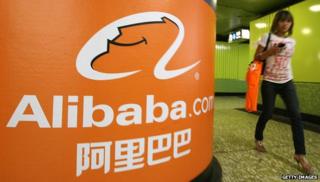 Chinese internet giant Alibaba has invested 5.6bn Hong Kong dollars ($692m; £415m) in Intime, a Chinese mall operator.
That investment, a mix of shares and bonds, will give Alibaba a 10% stake that could grow to 25%.
In a filing, Intime said Alibaba's investment would help "harness the latest internet technologies" to create a better shopping experience.
This is the latest of many investments Alibaba has made in the past year.
"We see significant opportunities to extend our e-commerce platform to physical retail," said Alibaba's chief operating officer Daniel Zhang in a separate statement.
Shopping spree
Alibaba is trying to strengthen its offerings ahead of a planned public stock market debut in the US.
Earlier this month, it bought a 60% stake in Chinavision, a Hong Kong-based television and media production firm, as well as investing $215m in chat application Tango in a bid to fend off competition from rival firm Tencent.
When Alibaba goes public - which many expect to happen some time this year - it is expected to be one of the biggest stock offerings by an internet firm.
Many analysts predict it could raise as much as $15bn - surpassing Facebook's share listing in 2012.