Eurozone inflation falls to 0.5% in March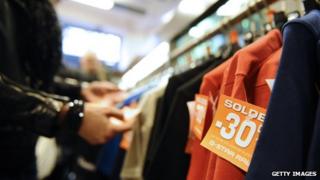 Inflation in the euro area fell to 0.5% in March, down from 0.7% in February and its lowest rate since November 2009.
The Eurostat estimate puts the inflation rate well below the European Central Bank target of just below 2%.
The figure is lower than the 0.6% rate expected by analysts.
The lower-than-expected rate may reinforce concerns that the 18-nation eurozone risks a damaging period of deflation.
Eurostat's March's figure is a "flash" or initial estimate, meaning it could be revised later.
However, it is the sixth consecutive month that the rate of inflation has been below 1%.
And analysts believe that the sharp drop in the inflation rate could prompt the European Central Bank (ECB) to take action this Thursday.
'Unwelcome news'
At its last meeting, which took place earlier this month, the central bank left interest rates on hold at 0.25% and took no new measures to bolster the eurozone's fragile recovery.
However, ECB president Mario Draghi said at the time that the bank could take action should the outlook for the eurozone deteriorate.
Analysts have suggested the ECB could cut interest rates even further or buy bonds in a similar manner to the US Federal Reserve.
ING economist Martin van Vliet said the lower-than-expected reading would "fuel talk of further monetary easing by the ECB".
IHS Global Insight economist Howard Archer said the fall in the inflation rate was "uncomfortable and unwelcome news" for the ECB.
"If the ECB does eventually act, it will probably include measures aimed at adding liquidity," he added.
Analysts noted the fact that Easter was later than usual had delayed the impact of rising travel and hotel prices and could encourage the ECB to wait before acting.
Citigroup economist Guillaume Menuet added: "There's still a case for easing, but we don't think there's going to be enough agreement within the governing council members to ease on Thursday."
On Friday, figures from Spain showed that prices in the country fell 0.2% in March compared with a year earlier.