Payday lenders 'failing' customers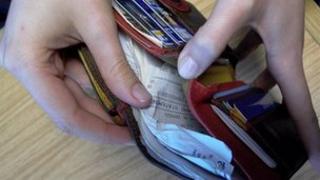 Citizens Advice has accused payday lenders of not upholding promises made to the Financial Conduct Authority.
Payday lenders pledged to freeze the amount a debtor owes if they default on repayments for longer than 60 days.
But Citizens Advice told BBC Radio 4's You and Yours this was not happening for struggling customers, nor were they being told about free debt advice.
But the industry body that represents lenders said the findings did not match feedback from debt advisers.
On Tuesday, the Financial Conduct Authority (FCA) takes over the regulation of payday lenders from the Office of Fair Trading.
In 2013 the industry promised to improve the way customers were dealt with.
But Citizens Advice examined 807 cases where debtors were struggling to pay. They found:
86% did not have their interest payments or charges frozen
Four out of five were not treated sympathetically
A third were put under pressure to extend their loan
Nine out of 10 said no checks were made when extending loans
Nine out of 10 were not told about free debt advice.
Sharon, 63, told the programme she borrowed £200 after struggling to pay bills. She found she could not keep up with the repayments.
She said: "All the time the loan wasn't going down, you're just paying the interest. I went to another company and took another loan and this happened three or four times.
"My rent was getting behind and I told the company I couldn't afford to pay it. For £200 in the beginning I was getting deeper and deeper in debt.
"I don't think the companies were very helpful, you can't talk to them on the phone and sometimes you need that rather than online."
Outlining the figures, Citizens Advice chief executive, Gillian Guy, said: "A payday loan has become a debt sentence for many of our clients due to irresponsible practices by lenders.
"Consumers who are looking for a bit of money to tide them over need a fair and competitive market to engage with, not one that seeks to exploit them.
"Lenders found to be breaking the rules and harming consumers should be immediately thrown out of the market."
Russell Hamblin-Boone, chief executive of the Consumer Finance Association (CFA), which represents major short-term lenders operating in the UK, said: "The Citizens Advice survey doesn't correlate with what we are hearing from the front line debt advisers in the Citizens Advice Bureaux or with any of our own statistics.
"CFA members' customers make up just a third of those surveyed, despite the CFA representing 60% of the industry."