Facebook's Zuckerberg earns $3.3bn through share options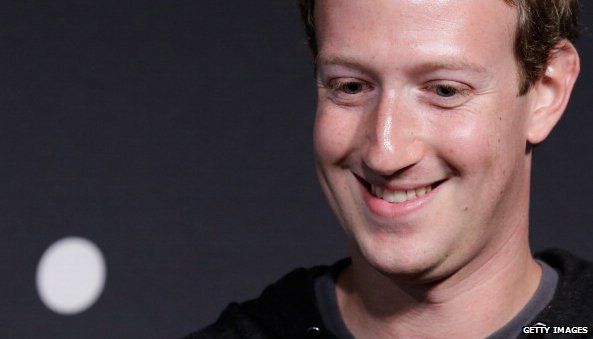 Facebook founder Mark Zuckerberg earned $3.3bn (£1.9bn) on the sale of share options in 2013, a new regulatory filing has revealed.
Mr Zuckerberg has now exhausted his supply of stock options as a result of Facebook's public offering.
He was given 60 million shares to help him with his tax bill.
His base salary for 2013 fell to $1, like other tech leaders such as Google's Larry Page and former Apple boss Steve Jobs.
However, his total compensation for the year was $653,165, down from $1.99m in 2012.
Facebook said the majority of that was to pay for flights on private jets, which are seen as necessary for security reasons.
Mr Zuckerberg still owns 426.3 million Facebook shares, which are worth around $25.7bn.
Shares in the social networking giant have more than doubled in value over the past year, as Facebook has reported better than expected earnings due to its strong mobile ad sales.
The filing with US regulators also revealed that Sheryl Sandberg, Facebook's chief operating officer, had sold a significant portion of her shares in the firm as well.
According to analysis by the Financial Times she had 41 million shares when Facebook first listed in 2012 and has, since then, sold 26 million of those shares.
Previously Ms Sandberg has said that she used the proceeds from selling shares to pay tax bills.
Her current stake of 17 million shares, which includes compensation earned since the offering and restricted stock, is estimated to be worth about $1bn.