FBI probes high-speed trading on US stock markets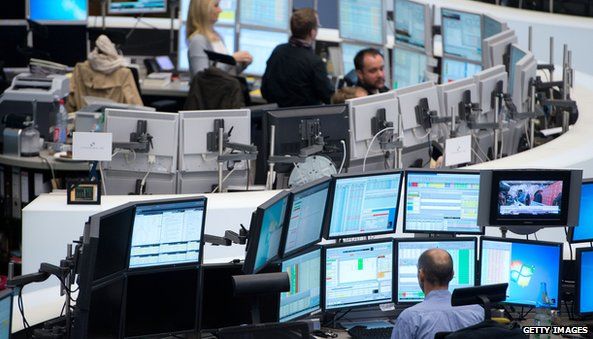 The US Federal Bureau of Investigation (FBI) has opened up a probe into whether high-speed trading firms are engaged in insider trading.
High-speed trading is where traders create complicated algorithms to buy and sell stocks in milliseconds.
Some investors and regulators have argued this gives them an unfair advantage.
Last month, New York's attorney general Eric Schneiderman said he was investigating the firms.
The FBI is looking into several practices at high-speed trading firms, including a method of trading where a firm places a large order for trades in a company's stock but then cancels them - giving the illusion of big activity in a stock.
The agency is also looking into whether trading firms were granted early information, ahead of institutional investors.
High-speed trading has become increasingly popular, but has also drawn scrutiny from various US regulator bodies concerned about the ability of firms to distort stock markets.
In 2012, Knight Capital, a New Jersey-based trading firm, lost close to $440m and almost had to file for bankruptcy after a computer glitch caused the firm to execute 150 mistaken orders to the New York Stock Exchange.
In May 2010, computerised trading was blamed for the "flash crash" which briefly sent US markets down 5% before the error was discovered.
More recently, investigators have begun looking into whether or not the firms are breaking US law.
The Commodity Futures Trading Commission and the Securities and Exchange Commission are both looking into whether major exchanges are giving preferential treatment to high-speed firms, giving them an unfair advantage over other investors.