UK Coal mines face closures as insolvency threatens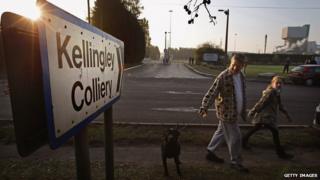 UK Coal is likely to close two of the last three deep mines in Britain as it battles to stave off insolvency.
The UK's largest coal producer is consulting on plans to shut Kellingley in Yorkshire, and Thoresby in Nottinghamshire, affecting a total of 1,300 workers.
The company is negotiating to raise £10m in investment "within weeks" to save itself.
If that fails, it has said it will turn to the government for help.
Andrew Mackintosh, a UK Coal spokesman, said it needed the cash injection to prevent the mines being closed straight away.
'Smooth closure'
"We are not looking at a long-term future here, but in order to close the mines slowly we need to have money," he told BBC Radio Nottingham.
"If we secure funding it gives us time to work with suppliers and employees to ensure a smooth closure programme.
"Thoresby and Kellingley would have at least 18 months, rather than an immediate closure if we don't get the funding."
If the two sites close, it would leave employee-owned Hatfield colliery in South Yorkshire as Britain's last remaining deep pit mine.
UK Coal, which provides 8% of the total coal consumed in the UK, said a strong pound meant it had lost out to cheaper imported coal, especially from the US, where the boom in shale gas has forced American coal miners to find new markets in Europe.
TUC general secretary, Frances O'Grady, called on the government to help keep the mines open.
'Really troubling'
The trade union body also said it was challenging an argument by the Department for Energy and Climate Change (DECC) that under European rules it cannot provide state aid.
Chris Kitchen, general secretary of the National Union of Mineworkers, added: "The [European] Commission says there is no obstacle in providing modest help.
"All it would take to secure thousands of good jobs is a commitment from this government."
The shadow home secretary, Yvette Cooper, said the situation was "really troubling".
"We really need to stand together...when we've got jobs at risk, but also the whole of the remaining deep mine coal industry, at a time when we need...to maintain that diverse energy supply."
A DECC spokesman said the issue was "primarily a commercial matter", but that it was "in close contact" with the company.
Possible investments
UK Coal said it was in advanced talks with stakeholders, including rival Hargreaves Services, about possible investments.
Hargreaves made a £20m bid for UK Coal last year when it was in administration following a disastrous fire at its Daw Mill colliery near Nuneaton.
However, the Pension Protection Fund, a public body that compensates employees' pensions when their businesses go bust, stepped in to rescue UK Coal.
Hargreaves has said it is not making a second bid to buy UK Coal, but that it "has extended offers of assistance to all the associated stakeholders to help try and find a solution to assist UK Coal".
UK Coal now has eight pits, including two working deep mines.