Zillow real estate website partners with China's Leju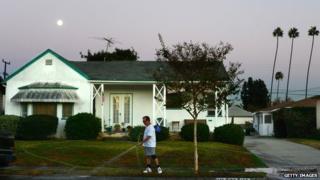 US online property site Zillow Inc has announced a partnership with Chinese real estate portal Beijing Yisheng Leju Information Services (Leju).
Zillow's site helps users find information about homes and mortgages and connects homeowners with agents.
The partnership with Leju will give Chinese investors access to home search information in the US.
Chinese home buyers have been increasingly looking to the US as prices soar at home.
Seattle-based Zillow said in a statement that Chinese investors made up 18% of the $68.2bn (£40.9bn) of foreign money spent on homes in the US during the 12 months ending in March 2013.
The firm said that Chinese buyers spent an average of $425,000 on a home in the US and that 69% of those purchases were reported as all-cash investments.
New York City and Los Angeles in the US are particularly popular destinations for Chinese buyers.
China access
Leju's partnership with Zillow will give its users in China access to US home listings, housing data and other local real estate market information.
"We're excited to announce this exclusive partnership with Leju," Zillow's chief industry development officer Errol Samuelson said.
"Brokers and agents with listings on Zillow are now able to reach Chinese home shoppers who are ready to invest in the US market, with no additional cost or effort," he added.
The new site will be co-branded and is set to be up and running by the middle of 2014. It will be translated into Chinese and operated by Zillow.
The international partnership is a first for the US firm. The financial details of the deal were not disclosed.