ECB keeps interest rates on hold at 0.25%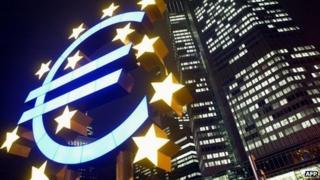 ECB keeps interest rates on hold
The European Central Bank (ECB) has kept its benchmark interest rate at a record low of 0.25%.
It comes despite the fact that inflation in the currency bloc fell to a five year low in March.
Eurozone interest rates have remained unchanged since November 2013, when the bank said it expected "a prolonged period of low inflation".
This week figures showed inflation continued to fall in March to 0.5%, well below the ECB's target of 2%.
March was the sixth month that inflation in the eurozone was trapped in what ECB President Mario Draghi has called "the danger zone" below 1%.
It was also the third month in row in which inflation fell.
The fear attached to lower inflation is it could harm the eurozone's nascent economic recovery, by weakening consumer demand for goods and services because households would be likely to put off spending believing prices will continue to fall.
Low inflation also means that governments and businesses find it more difficult to repay their debts.
Monetary easing
While the ECB was not expected to cut interest rates, analysts suggested it might adopt less conventional measures to boost the eurozone economy.
These might include a new round of cheap loans to banks or large-scale purchases of financial assets, similar to the US Federal Reserve's $65bn (£39bn) monthly bond-buying programme known as quantitative easing.
Howard Archer, chief UK and European economist at IHS Global Insight, said there was "obviously a very strong case" for taking interest rates to zero given how far inflation had fallen and the fact the euro was currently trading at a two and half year high against the US dollar of $1.40.
"However, the ECB will likely have taken some comfort from ongoing evidence that gradual eurozone economic recovery is continuing and there has not been an 'unwarranted' tightening in money markets," he added.
But Luke Bartholomew, fixed income investment manager at Aberdeen Asset Management, said the ECB's decision to hold interest rates would do little for the eurozone recovery.
"By not doing anything significant as deflation edges ever closer. Mr Draghi has let markets entertain the idea that he's going to do something without him having to actually do much. That's a dangerous game of poker and sometime soon he's going to have show his hand," he said.