House prices accelerate again says Halifax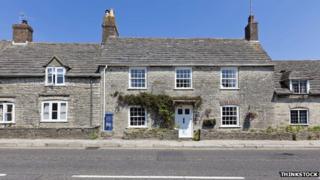 House price inflation has increased once again, according to figures from the UK's biggest mortgage lender.
The Halifax said prices rose by 8.7% in the year to March, the highest inflation rate since October 2007.
It put the increase down to an improving economy, growth in employment, rising consumer confidence and low interest rates.
However measured on a monthly basis, prices fell by 1.1% in March, compared with February.
That was only the third monthly decline in the last fifteen months, and means the average price of a house in the UK has actually fallen, to £178,249.
However prices were still up over the medium term.
In the first quarter of 2014 prices rose by 2.3%, compared to the last quarter of 2013.
The interactive content on this page requires JavaScript
'Froth'
Along with evidence from the Nationwide Building Society this week, the figures suggest that the rate of house price growth has recently slowed.
The Nationwide reported that price rises had "moderated" over the last couple of months.
"The dip in prices in March reported by the Halifax adds to some tentative signs that that a little bit of froth may be coming off the housing market - although it is still robust," said Howard Archer, chief UK and European Economist with IHS Global Insight.
However, over the year as a whole the Nationwide said that prices had risen by 9.5%.
It also said that the gap between prices in London and the rest of the UK was now the widest it has ever been, with prices of homes in the capital twice those in the rest of the country.
This week the Bank of England reported a sharp slow-down in the number of mortgages being taken out in February.