Labour's Chuka Umunna slams government export schemes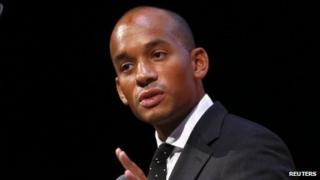 Two major government export schemes have failed to help a single firm, the shadow business secretary has said.
Labour's Chuka Umunna said the £1.5bn Direct Lending Scheme, launched seven months ago, had not helped one firm.
And he also said the £5bn Export Refinancing Scheme, launched in July 2012, was not even operational.
A government spokesman said steps were announced in the Budget to make both programmes "more accessible to small businesses".
The spokesman said the changes would help firms to "realise their export potential".
'Compete'
Mr Umunna said the Direct Lending Scheme had only received 15 inquiries with just one firm subsequently putting in an application for support.
"Ministers promised an export-led recovery, but the truth is that they are badly letting down British business," he said.
"Scheme after scheme which were supposed to help more firms export have failed to have any impact whatsoever - and now we learn that two programmes which were announced to great fanfare two years ago haven't helped a single firm.
"We desperately need to get more businesses exporting to boost middle-income jobs, grow our way out of the cost-of-living crisis and so we can ensure Britain can compete."
The criticism comes ahead of a week of export-related events being held by UK Trade and Investment to provide British firms with advice on doing business overseas.
Criteria changed
In his Budget last month Chancellor George Osborne announced changes to the Direct Lending Facility.
These include relaxing the eligibility criteria of the facility and reducing the interest rates involved, which the government hopes will broaden the reach of the scheme.
The Export Refinancing Facility is expected to launch soon, after business minister Michael Fallon told Parliament last month that the European Commission did not consider the scheme broke rules on state aid.
Both schemes will be administered by UK Export Finance, a government agency which offers insurance and bank guarantees to exporters.