Sun Pharmaceutical to acquire Ranbaxy in $4bn deal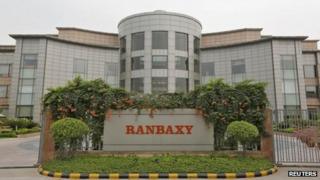 India's Sun Pharmaceutical has agreed to acquire rival Ranbaxy - majority owned by Japan's Daiichi Sankyo - in an all-stock deal worth $4bn (£2.4bn).
The combined entity will be India's largest pharma company and the world's fifth-biggest generic drugs maker.
It comes at a time when Ranbaxy is under the scrutiny of US regulators who have imposed import bans on drugs manufactured at some of its facilities.
The agreement still needs shareholder and regulatory approvals.
"Ranbaxy has a significant presence in the Indian pharma market and in the US," Dilip Shanghvi, managing director of Sun Pharma said in a statement.
"In high-growth emerging markets, it provides a strong platform which is highly complementary to Sun Pharma's strengths."
Quality issues
Earlier this year, the Food and Drug Administration (FDA) banned Ranbaxy from producing and distributing drugs for the US market from its Toansa facility in Punjab - the company's fourth facility to face such a ban.
The US drug regulator said there had been "significant" manufacturing violations at the facility.
It alleged that staff had conducted tests on materials that had already failed initial tests "in order to produce acceptable findings".
The firm has also received a subpoena from the US Attorney for the District of New Jersey asking it to produce certain documents relating to issues previously raised by the FDA with respect to the Toansa facility.
As part of the sale agreement, Ranbaxy's majority shareholder Daiichi Sankyo agreed to "indemnify Sun Pharma and Ranbaxy for, among other things, certain costs and expenses that may arise from the subpoena".
Ranbaxy is not the only firm to have products from some of its units banned by the US.
Last month, the US imposed a ban on imports from a division of Sun Pharma as well. It said the unit was not "operating in conformity with good manufacturing practices".
Overall, the FDA has put more than 30 Indian manufacturing units on its "import alert" list.
This is, effectively, a ban as it warrants the "detention of either particular products or all products manufactured by a firm" at the facility in question.