Online students can't help being sociable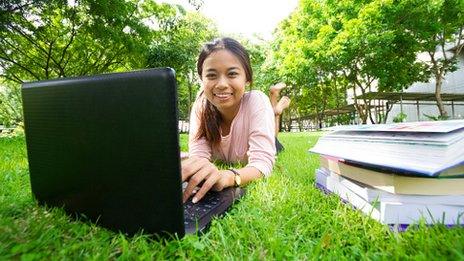 It was a revolution moving higher education from bricks to clicks… and now it's started to go back to bricks again.
Online university providers, which offered people the chance to study from home, are turning full circle by creating a network of learning centres where students can meet and study together.
Instead of demolishing the dusty old classrooms, the online university revolution is responsible for opening some new ones.
Coursera, a major California-based provider of online courses, is creating an international network of "learning hubs", where students can follow these virtual courses in real-life, bricks and mortar settings.
And there are thousands of meet-ups in cafes and libraries where students get together to talk about their online courses.
This is the latest stage in the rapid evolution of so-called Moocs - massive open online courses - where some of the world's leading universities have created digital versions of courses which are offered free over the internet.
Coursera now has seven million registered users. That's bigger than the entire university populations of the UK and France combined.
But it seems there is an irresistible social side to learning. Finding stuff out together seems to be more appealing than following a course alone.
The Coursera learning hubs are running in more than 30 cities, from Baghdad to Buenos Aires, Moscow to Mumbai and Shanghai to Santiago.
The learning hubs are run by partner organisations, providing a place where students following Coursera online courses can come to study together and get help from mentors.
In Moscow, the learning hub is hosted by Digital October, a centre for technology and entrepreneurship. Yulia Lesnikova, director of educational programs, says it provides a more sociable way of following online courses.
"Education is a two-way process… It's a shoulder to lean on," she says.
Students can work in groups on practical projects together with experts available to give advice.
"Mentors give a lot of help to people who don't understand."
There have been four online courses so far followed in the Moscow learning hub. This includes a course about genetics created by the University of British Columbia, with students in Moscow being supported by an expert from one of Russia's oldest genetics institutes.
There is a course on gamification from the University of Pennsylvania's Wharton School of Business, with sub-titles in Russian.
When students are gathered for their Mooc classes it becomes a focus for other spin-offs, such as firms wanting to recruit staff or to get students involved in developing commercial projects.
In Beijing, the learning hub has been set up with Guokr, a Chinese science-based social networking website.
Yang Liu, Guokr's education director, says studying as a group provides a way of keeping students connected. It's also introduced the word "Moocer" into China, she says.
"Learning can be very lonely, they can drop out."
It can be a more effective way of studying, she says. In a group of people there's likely to be a spread of knowledge, with students able to help one another.
"It's like a village, they form a small society."
It also allows for different types of learner to be supported. About half of the people following Coursera courses in Beijing are university students, she says.
But there are also isolated individuals who like the social setting, such as older people living alone or mothers looking after children at home.
Yin Lu, responsible for Coursera's international development, says learning hubs have a wide range of local approaches. They can be based around tutors or around organised projects or else emphasise the social aspect of learning.
In India, the focus is on teacher training and professional development. It means that courses designed for students in the US or Europe are being played out in classrooms in New Delhi and Mumbai.
What has become apparent, she says, is that there is a much lower drop-out rate for students who attend a learning hub.
Moocs allow anyone to enter, with no barriers from cost or qualifications, but that also means relatively few ever finish a course. Ms Lu says that the typical completion rate for a Mooc is about 5% to 10%.
For Mooc students attending learning hubs, the completion rates are between 30% and 100%, she says.
Ms Lu says it's likely that more hubs will open where there are concentrations of Coursera students.
But she says there are no plans for these learning hubs to become fully-fledged colleges, where students might take exams as well as follow courses.
"We exist to complement what universities can provide," she says.
But it wouldn't be difficult to imagine the commercial possibilities if they changed their mind.
There is something almost organic about how these digital projects have taken root in the physical world.
Moocs were meant to be the university courses of the laptop era, self-sustaining and free-standing, with students able to stop and start materials on the internet and get online support from social networking.
But you can't stop people from wanting to talk to each other, outside the computer screen.
As well as the more formal learning hubs, self-organised "meet-ups" for Coursera students have sprung up in more than 3,700 cities around the world, based around specific Coursera online courses.
For example, in London there are groups meeting in cafes at the British Library and the South Bank Centre. In Paris, there are meetings in the Pompidou Centre and in university buildings.
Meet-ups are held in a whole range of public places, where students want to discuss and debate these digital courses.
They're scheduled and arranged online, with the only vital ingredients being a laptop, wi-fi and somewhere to talk.
Even virtual students want to have a cup of coffee and a conversation after a lecture.