Pension reform in Budget was a huge surprise, says ABI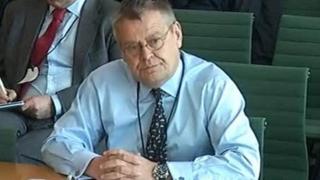 A huge reform of the pension system announced in the Budget was a "genuine surprise", the boss of an insurers' trade body has told MPs.
Under the proposals, from next year, millions of people reaching retirement age will be able to spend their pension pot in any way they want.
Share prices of a string of insurance companies were hit as a result.
Otto Thoresen, of the Association of British Insurers (ABI), said the industry would now "have to cope".
The changes are likely to lead to more people taking their pension pots as cash, instead of buying an annuity - a retirement income for life - from an insurance company.
But Mr Thoresen, director general of the ABI, said amid the "extreme nature of the reaction" to the policy included a tendency to write off the annuity system.
"Actually, they will be used in a different way at a different time," he said.
'Lively period'
He told the Treasury Select Committee that the insurance sector was a "socially important industry".
Committee chairman Andrew Tyrie said that the last few weeks had been a "lively period" for the industry.
In addition to the Budget "surprise", the industry has also been told that there will be a cap on the fees that can be charged for pension provision, as well as a regulator's investigation into old insurance policies.
Mr Thoresen said that the way the announcement of this investigation was handled by the Financial Conduct Authority (FCA) was clumsy.
He said that the regulator needed to be "fair, balanced and subjective".
In a separate development, the FCA announced that Simon Davis, a lawyer at Clifford Chance, would conduct an independent inquiry into the handling of the FCA's announcement of the investigation.