Brazil's energy giant Petrobras is mired in controversy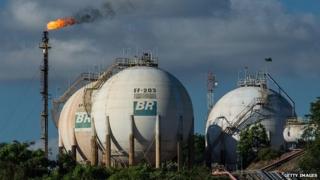 Just a few years ago, in 2008, Brazil's state-run oil and gas giant Petrobras was ranked as the world's sixth-largest company.
It was the government's crown jewel, said to be worth $287bn (£171bn) - more than Microsoft at the time.
The company was set to lead exploration of the recently discovered huge oilfields off the coast of Brazil.
But six years later, Petrobras' market value is only a third of what it was and the optimism surrounding the company has dimmed.
Embroiled in continuing controversy, Petrobras has become a cause for concern for both investors and the government itself.
The company has been under public scrutiny since the Brazilian newspaper O Estado de S. Paulo uncovered a 2006 deal that led to the purchase of an US oil refinery for almost $1.2bn.
It emerged that the same refinery had been bought by the previous owner for only $42m just one year earlier.
To add to the sensitivity the purchase was authorised by the Petrobras board, which at the time was led by Dilma Rousseff, who was then a cabinet minister and is now Brazil's president.
Petrobras now says it has set up an internal inquiry. Ms Rousseff said last month that she gave her approval based on "incomplete information" from a flawed report.
A political crisis erupted with accusations of overspending, and the opposition is working for a congressional inquiry.
While it is unlikely to uncover new information, allies fear it will be used to undermine President Rousseff's image as a tough, commonsense manager.
All this has happened just a few months before a presidential election, in which she is hoping to win a second term.
'Headache for stakeholders'
But Petrobras investors are worried about other things as well - the lower price of the company's shares and high levels of debt.
Extracting Brazil's pre-salt oil, so called because it lies deep beneath the sea under a layer of salt, is proving to be extremely expensive.
"More than causing a headache for the government, the company has been causing headache for stakeholders," says Adriano Pires, an analyst from consultants CBIE, the Brazilian Centre for Infrastructure.
The company's shares were worth about $13 in 2009, but now are valued at only half that amount.
This has frustrated many small investors who had bought Petrobras shares a few years ago amid expectations of high profits.
In 2010 foreign investment in Petrobras was said to be worth more than $9bn according to some estimates, but it is believed that many investors have now taken their money elsewhere.
Petrobras' debt is said to have risen 64% during Ms Rousseff's first term, to $114bn at the end of last year, the largest of any of the major oil companies.
Analysts say that one of the main reasons for the high debt levels is that the government uses the state company to control fuel prices to try to curb inflation, which is a growing concern in Brazil.
As Brazil consumes more oil than it produces, Petrobras is forced to import fuel for a higher price than the one it is allowed to sell at in the local market.
Investors remain unhappy. "They see the government role as political interference in Petrobras' management," says Robert Wood, a Brazil expert for the Economist Intelligence Unit.
"In part, [the company's recovery] depends on the increases in fuel prices and a more predictable management."
Added woes
A small price adjustment late last year has given Petrobras more breathing room.
It is expected to invest around $80bn in 10 years in the development of the huge coastal oil reserves known as Libra.
The field is one of the company's - and Brazil's - main hopes for energy production.
In recent interviews, Petrobras' president, Maria das Gracas Silva Foster, has argued that the company´s output is rising and that new oil price adjustments could also help increase its profits.
From the government´s perspective, the problems are far from over.
To add to their woes Brazil's sovereign debt, as well as Petrobras' own rating, have been downgraded by credit ratings agency Standard & Poor's.
'There is concern'
At the same time, there are recurring allegations in the Brazilian media of shady contracts signed by the company and of alleged bribes received by senior employees.
Several investigations are under way, but Petrobras rejects the allegations and insists it always followed proper procedures.
"Foreign investors still respect Petrobras' expertise in deep oil exploration," says Mr Wood. "But over its management there is concern."
For decades the oil giant has been a source of pride and at the heart of Brazilian life and politics - but its position today is more difficult than ever before.