David Jones agrees to takeover by South Africa's Woolworths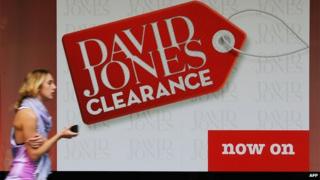 Australian retailer David Jones has recommended that shareholders accept a $2bn (£1.2bn) takeover offer from South Africa's Woolworths Holdings (WHL).
David Jones is Australia's second-largest department store group, operating 38 stores across the country.
The $2bn offer from Woolworths trumped an earlier bid from Australian rival Myer Holdings.
Gordon Cairns, David Jones' chairman, called the offer from Woolworths a "compelling proposal".
The deal still needs to be approved by shareholders of both companies.
Australia's Treasurer, Joe Hockey, will be reviewing the deal to address competition concerns. Woolworths will also need permission from the South African central bank before pursuing the deal further.
Other suitors
In a statement, Mr Cairns said: "This is a compelling proposal which represents a significant premium to not only our intrinsic value, but also to broker valuations and recent share prices."
Woolworths chief executive Ian Moir said: "The view that we take as a business is that the department store isn't dead - mediocrity is dead.
"In short, we're buying this business to build a bigger southern hemisphere brand."
WHL's offer, at four Australian dollars a share, represents a 25% premium to the closing price of David Jones' shares on 8 April.
It is also a 40% premium to where shares closed on 30 January, when the Myer offer was made public.
Myer said in a statement it would withdraw its offer of a "merger of equals".
Myer's chief executive, Bernie Brookes, added: "Myer remains Australia's largest full-line department store business and will continue to be a robust competitor."
Track record
According to industry data, Australia's retail sector is valued at A$265bn and employs more than 1.2 million people.
The deal will not be WHL's first foray into Australia.
WHL has been operating in the country for more than 15 years through its subsidiary, Country Road Group, which operates the Country Road, Trenery, Witchery and Mimco brands.
South Africa's Woolworth Holdings has no relationship with Australian supermarket chain Woolworths Ltd.