UK retail prices see record fall, BRC says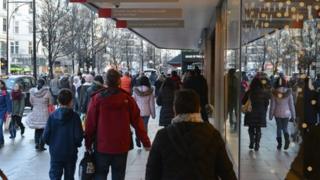 UK retailers cut their prices at the fastest annual rate on record in March as shops continued to compete to attract customers, the British Retail Consortium (BRC) says.
Prices fell 1.7% in the month compared with a year earlier.
It is the biggest annual fall in prices since the survey began in December 2006 and the 11th consecutive monthly fall in prices in a row.
The price of electrical goods, clothing and furniture all fell.
Prices for non-food items were 3.2% lower in March compared with a year ago, while the the rise in the cost of food slowed to 0.8% - its lowest level since the series began in 2006 - from 1.1% in February.
The BRC survey does not include online retailers or costs such as energy, transport and housing, which feed into the broader official consumer price inflation (CPI) measure targeted by the Bank of England.
Bargain hunt
Competition among retailers for market share is driving the record fall in prices, the BRC said.
"Retailers have been responding to their customers with keen prices and promotions to maintain market share, and March saw the deepest deflation for eight years and the lowest inflation ever recorded for food," BRC director general Helen Dickinson said.
The UK's biggest food retailers are already facing significant competition from smaller discount supermarkets.
On Tuesday a survey showed the "big four" grocers - Tesco, Asda, Sainsbury's and Morrisons - all losing market share to discount supermarkets Aldi and Lidl, both of which reported record sales in the first 12 weeks of 2014.
CPI inflation fell to 1.7% in February - its lowest rate in more than four years - and there are signs that wage growth is starting to accelerate, suggesting household spending could pick up later in the year.