RBS agrees with Treasury to cancel dividend block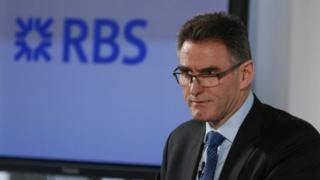 Royal Bank of Scotland (RBS) has agreed with the Treasury to cancel a deal that effectively stopped it paying dividends to private shareholders, in a step towards privatisation.
The lender said it will pay £1.5bn to cancel the so-called dividend access share - £320m of it this year.
The share was created as a condition of the bank's government bailout.
Its removal is seen as one of the key milestones towards returning the bank to private ownership.
It paves the way for the bank to begin paying dividends, making the shares more appealing to private investors, which could "expedite the timeline" for the Treasury to sell its 80% stake, said the bank.
"Today's agreement is a vote of confidence in the progress we have made in rebuilding RBS and in our plan for the bank's future," said RBS chief Executive Ross McEwan.
The effective block on dividend payments to private investors was created in 2009 when the government made its second investment in the bank, of £25.5bn.
The share currently means should the bank pay dividends, as much as 98.8% of it would go to the government.
RBS received clearance from the European Commission to cancel the agreement.
European regulators also agreed an extension to a deadline for RBS to sell 315 branches under the name of Williams & Glyn, which it had to offload as a condition of the bailout.
In a statement, the commission said a delay to the sale of those branches would not harm Williams & Glyn.
It comes after RBS failed to meet an EU deadline of the end of last year to sell the business.