China boosts market ties with Hong Kong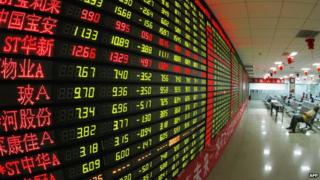 China is boosting stock market ties with Hong Kong with new measures allowing cross-border stock investment between Hong Kong and Shanghai.
China's regulator said it would allow mainland investors to trade shares in designated HK-listed firms.
At the same time, Hong Kong investors will be allowed to buy shares in companies listed in Shanghai.
The chairman of the Hong Kong exchange called it a "breakthrough" for the opening up of China's capital markets.
The pilot project will launch after a preparation period of about six months.
Daily quota
During the trial period, Hong Kong investment in Chinese stocks will be limited to a daily quota of 13bn yuan ($2bn; £1.2bn).
Mainland investment in Hong Kong stocks will be limited to a daily quota of 10.5bn yuan.
The pilot scheme will also limit trading to companies already dual-listed in Shanghai and Hong Kong, as well as other selected blue chip companies.
The tie-up was announced hours after China's Premier Li Keqiang said China would "actively create conditions to establish a transaction interconnection mechanism for the Shanghai and Hong Kong stock exchanges, to push forward the two-way opening of capital markets in mainland China and Hong Kong."
The premier made the comments at the Boao Forum for Asia in China's southern island Hainan.
Yuan internationalisation?
CK Chow, chairman of the Hong Kong Exchange, said the initiative represented a "major breakthrough for the opening up of China's capital markets".
Mr Chow added: "We believe that this development would pave the way for the further opening up of Mainland China's capital markets and help promote the internationalisation of Renminbi [yuan]."
Last month, China loosened its grip on the yuan by doubling the daily trading range for its currency against the US dollar.
Analysts had said the move was a sign that the central bank was growing in confidence, to deliver on its promise to allow market forces to play a greater role in the economy and its markets.