Huge investor demand for Greek five year bond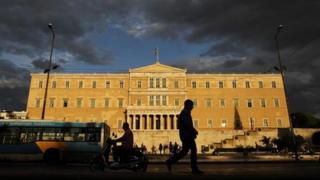 The sale of long term debt by the Greek government was eight times over subscribed, the government has said.
Greece's deputy prime minister Evangelos Venizelos said demand for 3bn euros (£2.4bn) worth of five year bonds proved the country's debt is sustainable.
The sale attracted interest from 550 investors.
Greece is retuning to the capital markets for the first time since its economy nearly collapsed in 2010.
The Greek government had initially priced the bond to provide a return of between 5% and 5.25%.
But with investor orders running at 20bn euros (£16.5bn) it was able to lower the yield to 4.95% - far lower than analysts had expected.
The country still has a "junk" credit rating, nine notches below investment grade at Caa3 by Moody's. Standard and Poor's and Fitch rank Greece six notches below investment grade at B-.
Bailout
Greece has been locked out of capital markets by high borrowing costs since 2010.
The bond sale comes almost four years to the day the government said it could no longer fund itself.
It received an international bailout from the International Monetary Fund (IMF), European Central Bank (ECB) and the European Union (EU) and a further bailout two years later as well as loans of 240bn euros.
The bailouts were granted on condition Greece imposed a series of deeply resented spending cuts and tax hikes.
However, the country's interest rates have been falling recently as its public finances have improved following tough austerity measures.
Protests
The bond sale came amid reports that a car bomb had exploded outside one of the Bank of Greece's offices in central Athens at dawn.
Police, blamed leftwing or anarchist extremists, but said no one was injured.
Germany's chancellor, Angela Merkel is due to make an official visit to the country on Friday.
Many Greeks blame Germany for insisting on spending cuts and tax increases in return for loans.
On Wednesday thousands of striking Greeks marched on parliament to protest against job and spending cuts.
More than 20,000 people marched peacefully through the streets of Athens chanting: "EU, IMF take the bailout and get out of here!"
The 24-hour strike left schools and pharmacies shut, ships docked at ports and hospitals operating with only emergency staff.
Greeks have lost about a third of their disposable income since the debt crisis started and unemployment has soared, leaving more than one in four without a job.
Turnout at the march, which lasted two hours, was similar to protests held during the last nationwide strike in November, according to the Reuters news agency.
Austerity
The country's economic output has shrunk by a quarter and unemployment remains close to 28%. There are fewer Greeks employed than at any time in the past 33 years.
In recent weeks, the Greek parliament agreed further austerity measures - including the sacking of 11,000 public sector workers - in exchange for the latest instalment of bailout money.
Last month, Greek lender Piraeus Bank sold its first bond in more than four years. The bond offered investors a yield of 5.125% and now trades with a yield of about 4.125%.