UK interest rates held at 0.5% by Bank of England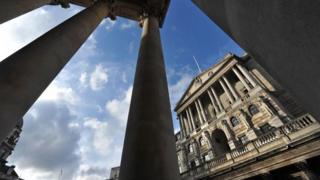 UK interest rates have been held at their record low of 0.5% for another month by the Bank of England.
The Bank also kept the size of its bond-buying stimulus programme unchanged at £375bn.
No changes had been expected to either rates or the bond-buying measure, despite recent evidence that the UK economy is continuing to recover.
Most economists do not expect the Bank to increase interest rates until the first half of next year.
The recent fall in the rate of inflation has also reduced any pressure on the Bank's monetary policy committee (MPC) to raise rates. The UK's inflation rate fell to 1.7% last month, which was a four-year low and below the Bank's target of 2%.
Investec chief economist Philip Shaw said: "For now, with the economy growing respectably but not roaring away, we see it likelier than not that the MPC will avoid tightening policy this year, especially with inflation expected to remain below target over the medium term."
Howard Archer, chief UK and European economist at IHS Global Insight, said: "The second quarter of 2015 currently looks the prime candidate for when the Bank of England starts to inch interest rates up - given both the inflation forecasts contained in the Bank of England's February Quarterly Inflation Report and the general drift of comments made by MPC members in recent weeks."
Clarity
Earlier this week, the International Monetary Fund said the UK economy would be the fastest-growing in the G7 this year.
It predicted the UK economy would grow by 2.9% in 2014, up from its previous estimate of 2.4%, and will see growth of 2.5% next year.
However, recent business surveys have suggested that the pace of growth eased slightly in March, and David Kern, chief economist at the British Chambers of Commerce, warned against any premature action by the Bank.
"Existing calls from some quarters for an early rate rise are unwelcome and risk unsettling business plans for higher investment," he said.
"The Bank of England must strive to maintain an environment that supports investment, with clarity on the future path of interest rates and action to keep inflation low."
The Bank had previously pledged not to raise interest rates until the UK unemployment rate fell to 7% or below, but it changed this policy when the jobless rate fell faster than expected.
The Bank is now looking at a range of different indicators, including how far the economy is running below capacity.