Fast Retailing lowers full-year profit forecast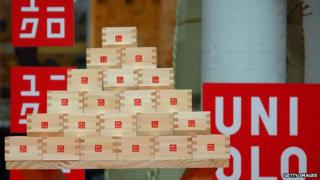 Shares of Japan's Fast Retailing have tumbled by 6.5% at the open in Tokyo trade after the company revised down its full-year profit projections.
Citing sluggish sales at home, the company trimmed its net profit forecast to 88bn Japanese yen ($865m; £515m) for the full year ending in August.
The estimate is down from a previous guidance of 92bn yen.
The firm is looking overseas to boost growth as Japan's recent sales tax rise is hurting spending at home.
Fast Retailing's best-selling brand, its casual clothing store Uniqlo, opened a new flagship store in Berlin on Friday.
And last month it launched its largest store yet, in Guangzhou, south China.
According to the company's statement, there are currently 325 Uniqlo stores in Greater China.
Fast Retailing has also mentioned plans to open its first Australian store in Melbourne in the next few weeks, and is aiming to add about five new stores in the US by the end of September.
But trading in Japan has been affected by an increase in the country's consumption tax, which went up from 5% to 8% on 1 April.
The hike was part of the government's efforts to boost its revenues to pay for rising welfare costs, stemming from an ageing population.