US tech stocks sell-off spreads to Asian markets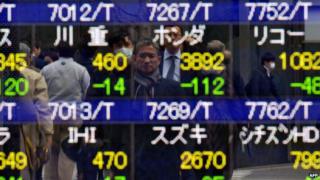 Asian markets ended Friday's session lower as investors took their cue from the US and dumped technology stocks.
China's Shanghai Composite index fell only 0.6%, but Tencent, China's biggest internet company, saw shares falling by more than 4%.
Japan's Nikkei 225 index lost 2.4% to 13,960 on Friday, the lowest close in six months.
Fast Retailing was the biggest market loser, with shares down nearly 8% after it warned of lower annual profit.
Authorities in Japan are keeping watch on the market movements.
"In regards to the recent stock movements, I understand that the weak financial results of several US companies, as well as the cooled-down investor sentiment, have driven the stock prices down."
"We'd like to keep our eyes on the market movements," said the country's chief cabinet secretary, Yoshihide Suga.
On Thursday's session in the US, the Dow Jones fell by 1.6%, while the S&P 500 dropped by a little more than 2%, its biggest loss since 3 February.
The Nasdaq index had its worst day since November 2011, falling more than 3% - or 130 points - to 4,054, following a sharp sell-off in biotech shares. All Nasdaq stocks except one posted a loss.
The drop in the Nasdaq, where many technology-related companies are listed, spooked investors in Asia, as there had been concerns that stocks from the technology sector were overvalued.
Meanwhile, shares in eBay fell 3.2% after activist investor Carl Icahn dropped his proposal that the company should split off its PayPal payments unit.