Tech tools make selling to the world child's play
By Matthew Wall
Business reporter, BBC News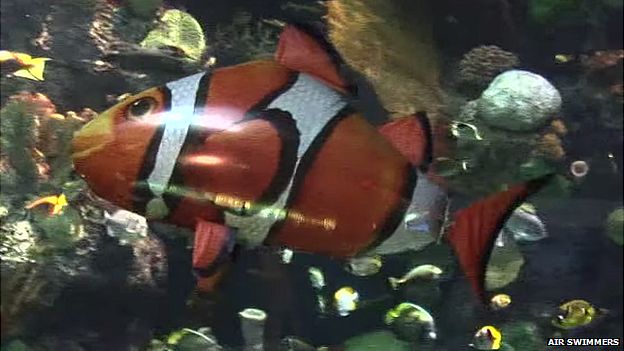 How do you tell the world about your remote-controlled flying fish toys?
Go the traditional route of advertising in print, on TV and online at potentially great expense, or simply make a video?
Air Swimmers chose the latter and racked up more than 11 million views on YouTube over three years.
"It took about a week to film," says Mark Forti, of William Mark Corporation, the California-based company behind the toys. "And it really didn't cost anything. We just went around town doing pranks with our inflatable shark."
The video attracted millions of views in the first few weeks, he says.
"All of a sudden, the entire world knew about our product - we were flooded with emails and sales soared," says Mr Forti.
"If the video gets traction, there is no better return on investment. For almost no money, you can reach the world.
Charlie Muirhead, chief executive of video marketing company Rightster, agrees, saying: "Video is a better way to explain your product, whether you're a butcher or a car company. Text and pictures just take more effort to read.
"And now you can make a polished video for a few hundred pounds and really great one for a few thousand. The cost of production has come down so much."
This is just one example of how technology has transformed the way small businesses can sell and market themselves online to a potentially global audience.
The rise of cloud-based services for hire has given small businesses the ability to assemble all the necessary components for a locally or globally focused online shop quickly and cheaply.
Website builders such as BaseKit and Wix, for example, offer small businesses the ability to create "responsive" websites simply and cheaply.
Written in HTML5 and CSS3 code, these sites adapt their layouts to the size of screen - an essential requirement in the smartphone era.
"Now you can have an idea and set up an online presence and shop within a week at very low monthly cost," says Gary Turner, managing director of accounting software company Xero.
With 284,000 small businesses on its platform worldwide, from beard oil vendors to kilt sellers, Xero provides the "back office" functions - billing, accounting and stock tracking.
But it also offers access to a catalogue of 300 add-in tools to provide e-commerce and marketing functionality, says Mr Turner.
E-commerce capabilities from the likes of Vend and Shopify can be integrated easily into modern websites, while totally free open-source web store platforms, such as OpenCart, are also available online.
Email marketing and customer service can be handled using services such as MailChimp, and social media platforms provide an obvious free way to promote a brand and engage with customers.
Small businesses need to keep up with the latest tech trends to make their customers' online experiences as engaging as possible.
For example, shoppers can now "try on" virtual versions of clothes using Fitting Reality's augmented reality software on a TV or computer.
A Microsoft Kinect camera takes an accurate reading of your figure as you stand in front of the TV. Then the software overlays the chosen dress or suit on the screen to show what it looks like.
"Virtual fitting is a great opportunity for e-commerce," says Inga Nakhmanson, who founded the company in Moscow in 2011.
"And the more accurate data we have about our body shapes, the better future clothes designs can be."
But these days, having a website and selling products are only part of what e-commerce is about, argues Paige O'Neill, chief marketing officer at SDL, a global e-commerce and digital marketing company. Now it is also about developing long-term relationships with customers.
"To build brand power against the big guns in online retail, small businesses should focus on online experiences and how they can replicate the personalised store experience many consumers love so much," she told the BBC.
"Websites need to become content hubs for visitors, exploring the latest celeb trends, for example, to make them stand out on search engines and encourage repeat customer visits."
This means enhancing e-commerce functionality with other content, such as video, blogs - internal or external - and social media such as Twitter, Facebook, Pinterest, Instagram and Tumblr, she suggests.
Of course, it may seem perverse to set up everything from scratch when you can easily establish a presence on existing global marketplaces, such as Ebay, Amazon, Etsy and Rakuten, and let the customers come to you.
And there are several companies who will take care of your entire e-commerce, marketing and customer services operations for you.
"You have to provide a seamless experience for customers no matter how they interact with you, whether that's via website, mobile, social media or call centre," says Raj Badarinath.
He is head of global product marketing for Avangate, a digital commerce company that gives small businesses the ability to reach global markets, service customers in nine languages across all channels, and handle foreign currency payments.
"We do all the work for you," says Mr Badarinath, "but we only eat when you eat. We take an 8% to 10% share of your revenues, so it's a shared-risk model."
With all these digital tools and technologies to hand, setting up shop has become so much easier, argues Emma Jones, founder of Enterprise Nation, a support network for entrepreneurs.
"There's never been a more exciting time to set up your own business," she concludes.
Related Internet Links
The BBC is not responsible for the content of external sites.