UK construction output shrinks 2.8% in February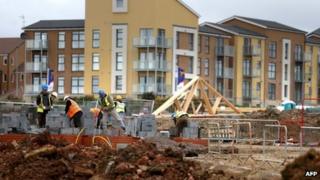 Output in the construction industry fell sharply in February as extreme weather halted work on building sites, official figures have shown.
Output fell by 2.8% - £270m - compared with a month earlier, the Office for National Statistics (ONS) said.
But in the three months to the end of February, construction output grew 0.3% compared with the previous quarter.
Despite signs of improvement, the construction industry remains 13.2% below its pre recession peak.
The ONS said the heavy rain and flooding that marked the wettest winter on record had caused delays in building work.
It added that repairs of flood damage had not yet filtered through to its data.
The fall in February's construction output was the biggest monthly decline since November 2013 and dragged the annual growth figure lower.
The ONS said construction output increased 2.8% in the year to February, compared with a 5.7% increase in January.
Output measures the amount charged by construction companies to customers for the work they do.
House building
Within the figures, private sector new housing activity, which had driven growth in the construction sector in 2013, fell by 6.3% in February - the biggest fall for nearly a year.
The construction industry contributes 6.3% to overall UK economic growth.
Howard Archer, chief UK and European economist at HIS Global Insight said despite February's sharp fall, it was still likely that construction output would still see clear overall expansion in the first quarter of 2014,
He pointed out that construction output in January and December had risen strongly and added that a rebound in construction activity in March of just 1% would result in quarterly growth of 0.5%.
"In fact, any growth in construction output in March would result in some overall expansion in the first quarter, as even flat output in March itself would see output up 0.1% in the first quarter," he said.
"It needs to be remembered that the implications for overall GDP growth in the first quarter are relatively limited."