JPMorgan profits fall 19% as mortgage business fades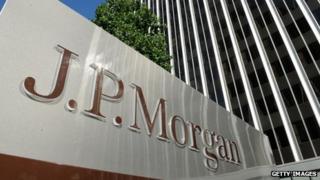 US banking giant JPMorgan Chase has reported a sharp fall in profits at the start of 2014, which it blamed on declines in its mortgage business.
The bank said net income in the three months to the end of March was $5.3bn (£3.1bn) - a fall of 19% compared with a year earlier.
Profits from its mortgage business stood at $114m, down $559m from last year.
The figures mark the second successive quarterly fall in profits at the bank.
It comes as Wells Fargo, the biggest US mortgage lender, reported a higher-than-expected 14% rise in first-quarter net profit.
But it said the rise in profits was the result of a series of equity investment gains, which helped offset a continuing slowdown in its home loan business.
It said net income rose to $5.6bn in the first three months of 2014, from $4.93bn a year earlier.
Both JPMorgan and Wells Fargo suffered from a fall in remortgaging activity.
Wells Fargo provides almost one in five US home loans. It said income from mortgage banking fell by 46% to $1.5bn from $2.7bn a year earlier.
Applications for refinancing fell to their lowest share of total mortgage applications since July 2009 in the week ending 4 April, the Mortgage Bankers Association (MBA) said.
And Black Knight Financial Services said February was the worst month for new home loans since at least 2000.
Wells Fargo's new home loans fell to $36bn in the quarter from $109bn a year earlier and from $50bn in the fourth quarter.
The company had not made so few home loans since the third quarter of 2008, when the housing market was under heavy stress.
At the same time, profits from JPMorgan's corporate and investment banking division stood at $2bn, down from $2.6bn just three months earlier.
Legal costs
For JPMorgan, 2013 was marred by huge legal settlements over its mortgage practices in the run-up to the 2008 crisis.
The "London whale" trading scandal and other controversies including legal costs relating to the fraudster Bernie Madoff also dented earnings in 2013.
JPMorgan chief executive Jamie Dimon still described the bank's first quarter results as "good" given the industry-wide headwinds in both investment banking and mortgages.
"We have growing confidence in the economy -- consumers, corporations and middle market companies are in increasingly good financial shape and housing has turned the corner in most markets -- and we are doing our part to support the recovery," Mr Dimon said.
Mr Dimon called the conditions of 2013 "painful and nerve-wracking" in a letter to shareholders in April.
However, bank officials are hopeful 2014 will see fewer large legal settlements with regulators and private parties.