Internet car sales fraud costs the UK £18m per year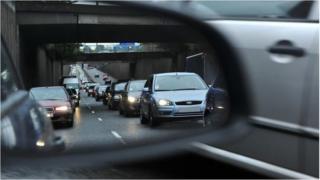 Losses from fraudulent internet car sales are costing the UK £18m per year.
The figures from the National Fraud Intelligence Bureau and the website Get Safe Online show there were more than 6,600 cases reported to police in the UK in 2013.
In almost half of all those cases, buyers were persuaded to make full or part payment for a vehicle, only to then lose contact with the '"seller".
The average losses per victim are put at £4,078.
In March this year, Soukanya Wood from Chelmsford in Essex spotted an advert on eBay directing her to the website berenscarsales.co.uk.
It claims to have been trading for more than 20 years, with its head office in Newbury in Berkshire. Mrs Wood saw a Ford Galaxy that she liked and received a call back from a man calling himself Simon Mortimer.
Car never arrived
"He mentioned that they were coming our way to pick up a Bentley from a nearby garage and if I wanted, they would deliver the car free of charge. So I thought it would save me going all the way to Newbury."
As the car transporter was supposed to be heading her way within two days, Mrs Wood was persuaded to pay quickly, depositing more than £7,000 into the company's bank account.
"The man had said that I'd have an hour to check the car out, fill out the paperwork and take it for a test drive. If I wasn't happy, he was going to take it back and issue a full refund," she said.
But the car never arrived and she has not been able to contact Mr Mortimer since.
'Scammed me'
"I do feel silly to have trusted a stranger, but the reason I did it was because the website was so well set-up and they had a sign that said they were a Black Horse-approved dealer. I trusted that it was a legitimate dealer."
Black Horse is part of Lloyds Banking Group and offers finance through approved dealers to help people buy vehicles.
In a statement to BBC Radio 4's You & Yours programme, the company says: "Our internal checks have shown that we do not hold, nor have ever held any relationship with Berens Car Sales and they are not a Black Horse-approved dealer.
"They are not permitted to use our logo nor any of our finance offers in their customer literature and we would like to thank the BBC for bringing this misuse to our attention. We are making further inquiries about this company."
Melissa Porter from Cheshire saw a Fiat 500 advertised on the Berens website. She also received a call back - this time from a Simon Stubbins - who persuaded her to transfer more than £7,000 into the firm's bank account, as they were due to be delivering cars in her area the very next morning.
"My son and I waited for the transit to arrive the following morning and it never did, and my heart dropped and I thought, 'No way, he has scammed me.'"
'Dark Area'
Despite claiming the business has been trading for more than 20 years, checks by the BBC revealed the website itself was only registered in March 2014 in the name of a Simon Walton, rather than a Mortimer or Stubbins.
There is no sign of the business at its stated address in Newbury and attempts to contact them have failed.
Speaking on Radio 4's consumer affairs programme, You & Yours, the chief executive of Get Safe Online, Tony Neate, said: "There are millions of pounds spent online each year without any issues. However, there is a dark area and people who will try and exploit others."
"It's easy for people to say that I wouldn't fall for that, but the scammers use all the tricks in the book to try and con people and you have to have your wits about you.
'See the car'
"When you're buying a car we would advise that you go and see the car, make sure the site and the business is as genuine as possible before you part with your cash."
It pays to be cautious whenever buying something online, but the chances of falling victim to a vehicle fraud remain very low. While the 6,600 fraud cases only include those actually reported to the police, they still need to be set against the total number of used cars successfully sold in the UK each year.
A report by the University of Buckingham's Centre for Automotive Management and commissioned by British Car Auctions put that figure at more than seven million in 2012.
You can listen again to this story through the You & Yours website