ECB hints at further stimulus to combat low inflation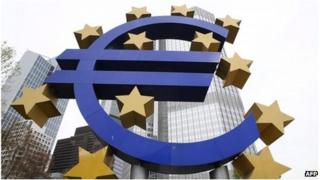 The European Central Bank (ECB) has said it will provide "further stimulus" to the eurozone economy if inflation in the bloc continues to remain low.
Mario Draghi, the bank's president, said a stronger euro would act as a trigger to looser monetary policy.
The rise of the single currency's exchange rate is one of the main reasons eurozone inflation is at a dangerously low 0.5%.
One of Mr Draghi's stimulus options would be quantitative easing (QE).
That is something the International Monetary Fund (IMF) has been suggesting as concerns grow about deflation in the eurozone.
'Further stimulus'
Speaking after the IMF's spring meeting in Washington, Mr Draghi hinted that QE - the large-scale purchase of financial assets - may be needed.
"If you want policy to remain as accommodative as now, a further strengthening of the exchange rate would require further stimulus," he said.
Earlier this month the ECB kept interest rates steady, at a historic low of 0.25%, but Mr Draghi said its members were unanimous in their willingness to begin QE if inflation stayed well below their 2% target.
Their fear is that falling inflation could harm the eurozone's fragile economic recovery by reducing consumer spending - because people would be likely to put off purchases, believing prices will continue to fall.
Low inflation also means governments and businesses find it more difficult to repay their debts.
However, most analysts believe Mr Draghi's more likely choice would be a further cut in the ECB's benchmark interest rate, currently at a record low of 0.25%.
Strong euro
The bank's policymakers recently raised the idea of cutting the rate to below zero, effectively charging banks that hold excess cash at the ECB.
Such measures could be needed, Mr Draghi said, because of a euro that has strengthened by nearly 5.5% against the dollar, and by nearly 10% against the Japanese yen in the last year.
The euro is currently worth $1.39.
The currency's strength, Mr Draghi said on Saturday, accounted for a half percentage point of the decline in the annual inflation rate.
"I have always said that the exchange rate is not a policy target, but it is important for price stability and growth," he added.
"What has happened over the last few months is that it has become more and more important for price stability."