Lord Myners says he supports Co-operative values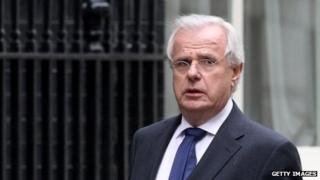 Lord Myners has written a letter accusing critics of misunderstanding his approach to Co-op reforms, saying he supports the Co-operative model.
In a letter to the Guardian, he says "don't be deceived by all the ill-informed comment on my Co-op Group review. I want to see the group survive, and will protect its values."
Lord Myners was made a director in December, to fully review the business.
The group's full results will be revealed this week.
Big losses, possibly of £2.5bn, are expected, following on from the results for the Co-op's banking division, which last week showed losses of £1.3bn.
The bank's troubles came to light after a deal for it to take over 632 Lloyds Bank branches failed and the bank's chairman, the Reverend Paul Flowers, was arrested over drugs allegations.
Lord Myners, a former City minister, resigned from the Co-op board last week after his suggestions for reforming the group's corporate structure ran into resistance from supporters of its mutual model.
He said the Co-op must take steps to reform or go bust.
'Ungovernable'
Lord Myners writes in the Guardian: "I am a strong supporter of co-operatives and mutuality. I would not have taken on a review of the Co-operative Group's governance if I did not care deeply.
"I want to see the group survive and flourish at the centre of communities. Therefore I regret that so much comment about my interim proposals is seriously ill-informed. At the heart of this is the view that I am proposing a plc model. This is categorically not the case."
The largest of the mutual's independent societies, Midcounties, has already said it would vote against his reforms, aimed at simplifying the Co-op's governance and making it more like a publicly listed company.
The initial findings of his review into the company said its elected directors had overseen "breathtakingly value-destructive" decisions, such as the Co-op's takeovers of Britannia building society and supermarket chain Somerfield.
Last month, Euan Sutherland walked out as chief executive, saying the organisation was "ungovernable".
The organisation's immediate priority is to decide whether to support an extra £400m fundraising by its banking arm.
That is now just 30% owned by the Co-op after a rescue by bondholders last year.