Citigroup quarterly profits rise to $3.9bn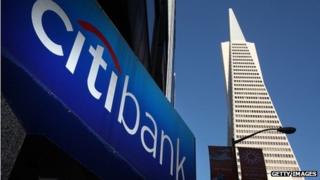 US bank Citigroup has announced that it made profits of $3.94bn (£2.3bn) in the first three months of 2014, despite having a "difficult" quarter.
The bank's net income rose 4% compared with the same period last year.
Citigroup's profits were helped by narrowed losses on troubled assets held by Citi Holdings.
During the first quarter of the year, the bank discovered fraud in its Mexican subsidiary and failed a Federal Reserve stress test.
Chief executive Michael Corbat said the company was working with the Federal Reserve "to better understand their expectations".
"Despite a quarter that was difficult for our company, we delivered strong results," he said. "Both our consumer and institutional businesses performed well and we grew both loans and deposits while holding the line on our expenses."
Citigroup's results were helped by a narrowing of losses at its Citi Holdings unit, which is overseeing troubled assets from the financial crisis. Losses narrowed to $284m from $804m a year earlier.
The bank's core Citicorp business reported an 8% drop in net profit and revenues down 3% as a result of falling revenues from mortgage lending and bond trading.
In February, the bank said it had discovered fraud in its Mexican subsidiary, and that 2013 net income would be reduced to $13.7bn from $13.9bn.
The Fed announced on 26 March that it objected to a capital plan submitted by the bank that included a $6.4bn stock repurchase programme and an increase in Citigroup's quarterly stock dividend to $0.05.