Diageo bids to control India's United Spirits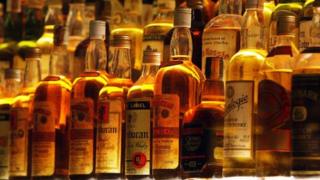 Global drinks giant Diageo has said it will launch a $1.9bn tender offer to complete its plan to acquire a majority stake in India's United Spirits Ltd (USL).
Already the largest shareholder in USL with 28.8%, Diageo is now seeking to purchase an additional 26% stake.
The increased stake in USL could give Diageo an influential position in the world's largest whisky market.
The company continues to expand in emerging economies.
Diageo has offered 3,030 rupees a share, or 114 billion rupees ($1.9 billion) for the stake in the Bangalore-based business - 18% more than United Spirits' closing price on 11 April. The offer will be launched in June.
United Spirits surged 11% to 2,840.05 rupees in Mumbai trading following the offer.
If the deal goes ahead, Diageo plans to keep USL listed on the Indian market.
An earlier tender offer from Diageo in 2012 failed, as the offer price was lower than the market price of USL at that time.
Expansion moves
UK-based Diageo is the world's largest producer of spirits.
It is currently expanding in emerging markets, where economic growth is creating a broader middle class with more disposable income.
In terms of volume, United Spirits is the second-largest spirits company in the world.
Diageo began its tie-up with USL in 2012, when it bought its initial stake in the firm.
But in November 2013, the UK's Office of Fair Trading (OFT) said Diageo's control of USL was against competition and could lead to higher whisky prices in the UK.
As the deal increased Diageo's share of the blended whisky market to about 40%, the OFT was concerned this could reduce competition and raise prices for consumers.
In response, Diageo offered to sell most of its Whyte and Mackay business to appease the competition authorities.