Ukraine crisis could hit Russian GDP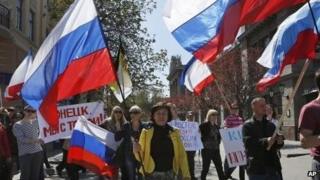 The Russian economy may see zero growth this year because of the Ukraine crisis, Russia's finance minister has admitted.
The minister, Anton Siluanov, warned the country's economy faced "the most difficult conditions since the 2008 crisis", Russian news agencies said.
Mr Siluanov said Russia had already seen capital flight of $63bn in the first three months of 2014.
Russia's annexation of Crimea is also set to increase state spending.
Mr Siluanov told a government meeting: "GDP growth is estimated as rather low, 0.5%. Perhaps it will be around zero."
He added that money was leaving the country because of geopolitical instability - understood to mean Russia's involvement in the Ukraine crisis and increased pressure in eastern Ukraine.
The capital flight, according to Mr Siluanov, was the result of the mass conversion of roubles into foreign currencies.
The continued slowdown in growth has also been linked to a dependence on energy exports and an economy in need of modernisation.
"Continuing capital flight lowers the opportunities for economic investment and creates risk of an unbalanced budget. The main reason for capital flight is instability in the way the geopolitical situation develops," said Mr Siluanov.
Over the past three years, Russia has seen economic growth fall from 4.3% in 2011 to 1.3% in 2013.
'Artificial crisis'
Prime Minister Dmitry Medvedev recently told residents of Crimea that the government would be increasing salaries and pensions, in addition to putting extra money into the peninsula's infrastructure, following its recent controversial annexation.
Mr Siluanov warned Mr Medvedev not to spend too much in the region, stating that announcements were made "without analysing the real needs of Crimea and Sevastopol".
Mr Medvedev described the Ukraine crisis as "artificial" and said it was only partly responsible for the economy's bleak outlook.
"We of course cannot ignore the political elements of the current period," he said.
"To an extent, our difficulties - I emphasise only to a certain extent - are tied to attempts of certain forces to push us into an artificial crisis."
With pro-Russia forces occupying buildings in cities across eastern Ukraine, and the central government threatening to retake control by force, tension continues to build in the region.
US Treasury Secretary Jacob Lew recently urged other countries to contribute more to the economic rescue of Ukraine.