UK inflation falls to 1.6% in March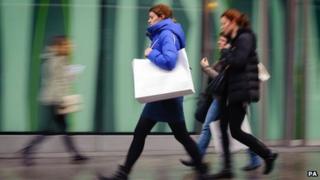 The UK inflation rate as measured by the Consumer Prices Index (CPI) fell to 1.6% in March from 1.7% in February, according to the Office for National Statistics (ONS).
It is the third consecutive month inflation has been below the Bank of England's 2% target rate, and the lowest rate since October 2009.
The largest contribution to the fall in the rate came from petrol prices.
The rate of Retail Prices Index (RPI) inflation also fell to 2.5% from 2.7%.
Petrol prices were unchanged between February and March, compared with a rise of 2.2p a litre a year earlier.
A smaller rise in the prices of clothing and footwear, compared with last year, also contributed to the drop in the inflation rate.
It is the sixth consecutive month that the rate of inflation has fallen, marking the longest consecutive fall since modern records began.
The drop in the rate of inflation means that the gap between average wage growth and the rise in prices has continued to narrow.
Average total earnings, including bonuses, rose 1.4% in the three months to January compared with a year earlier, according to ONS figures released last month. Excluding bonuses, wages grew by 1.3%.
The ONS will release its latest figures for average total earnings in the three months to February on Wednesday.
On Monday, economic forecasting group the EY ITEM Club predicted average earnings could rise faster than the cost of living as early as this month.
'Stable' environment
Capital Economics economist Samuel Tombs said: "March's UK inflation figures suggest that the six-year squeeze on real earnings is finally over."
And BNP Paribas economist David Tinsley said the rate of inflation remained "benign".
"This is providing plenty of breathing space for the Bank of England's MPC [Monetary Policy Committee] to re-iterate its intention not to move to policy tightening any time soon," he added.
David Kern, chief economist at the British Chambers of Commerce (BCC) said the fall in the inflation rate was "good news" for businesses.
"It contributes to an environment of stability and reduces the case for short-term interest rate rises," he said.