Forget Silicon Valley, meet Silicon Bali
By Kim Gittleson
BBC business reporter, Bali, Indonesia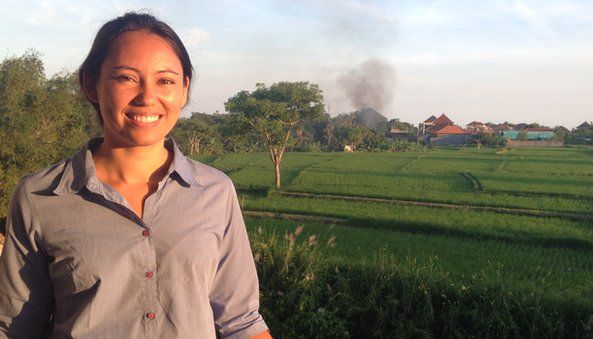 The Sun is setting over lush green rice paddies in Denpasar, Bali, as Andrea Loubier leads me downstairs, towards the pool.
"It's almost dinner time," she says, just as the smell of something delicious - pineapple, perhaps - wafts over. She waves to two of the adjoining villa's inhabitants, who are nestled in hammocks under a thatched roof, deep in discussion.
"It's really peaceful here," she adds, almost unnecessarily.
But while she might be wearing the shorts and T-shirt typical of Bali's many tourists - who flock to Indonesia's "island of the gods" for sun, surf and spirituality - make no mistake, Ms Loubier is hard at work.
Before I interrupted her, she was busy making tweaks to Mailbird, the 18-month-old company she co-founded, which seeks to streamline the often-clunky Microsoft Windows email system. Already, the eight-person company has attracted thousands of users and glowing attention from trade publications such as TechCrunch.
And she isn't the only tech entrepreneur writing code late into the night here - cybercafe billing firm SmartLaunch and virtual laboratory Labster are also busy working in a place most people go to disconnect.
"People are leaving their corporate jobs and starting their own businesses and they're starting to do it from wherever they want," Ms Loubier says.
Silicon Valley, meet Silicon Bali.
Ms Loubier, who left her engineering job in the US state of Ohio to strike out here, says she was lured by the cheap cost of living, as well as its inspirational scenery.
"Bali has all the core ingredients to build a business - but most people would never think that, especially when it comes to technology," she says, noting that internet speeds here rival many developed nations.
And she's not the only one who has come to Bali to work.
Peter Wall co-founded Hubud, a co-working space in Ubud, Bali, with two friends a year ago.
Since then, Hubud, which makes money from those paying to work from its plush, bamboo-panelled offices, says it has grown to include 250 members from 31 countries.
"When you think about Bali, you think about vacation - but I think as more and more of our lives change from, 'This is my working life,' to, 'This is my home life or this is my working life or this is my travelling life,' it's all getting mashed together now," says Mr Wall.
"People who have business, or are starting business, they're realising that they don't have to do it in a big centre like Hong Kong or Singapore or in their home country," he explains.
For years now, experts have been predicting that, with ever-increasing internet speeds and improving video communications technologies, the future of work will involve more telecommuting and working from home.
It is perhaps no surprise that that, combined with the growing acceptance of freelance work, has led to the growing prominence of a group of people known as "solopreneurs".
These workers say that they can be location-independent because of the fast internet speeds available in far-flung locales, as well as a growing acceptance from clients that work can and will get done, whether it is from a skyscraper in Manhattan or a bungalow in Bermuda.
But it is only recently - some say in the past year or so - that entire companies, like Mailbird, have decided to test out whether or not location independence can be broadened out to include firms.
Michael Bodekaer founded Startup Getaway and now Project Getaway, the name for the group of firms housed in the villas that Mailbird operates from.
"I decided on South East Asia, and Bali in particular, because of the low-cost possibilities - you can create a very nice lifestyle with very little cash," he says.
He adds that he's not the only one who has caught on to the upsides of location-independence, noting the movement has been gathering steam for some time.
"It's been growing very organically through word of mouth over the past couple years, but recently more and more success stories have come out of it," says Mr Bodekaer.
"This has helped prove that this way of living and this way of start-ups is possible," he says, adding that this success has also convinced investors to pour funds into start-ups outside of traditional tech hubs.
Yet working from paradise has its downsides.
"Once in a while we get a monkey that comes by - that doesn't happen in a lot of other places," admits Mr Wall, who adds that internet connectivity, while improving, continues to be a problem.
Furthermore, while investors might be curious about Bali's tech culture, Ms Loubier says it is not unheard of for firms to leave out that they are based in Bali when speaking to potential clients.
"Even my parents are sometimes sceptical," she admits.
That leads to a sort of reverse problem - a desire to work harder, longer hours, both because of the inspiring environment but also, one suspects, to prove doubters wrong.
But those problems, Balipreneurs insist, are not enough to actually make them leave.
After checking out the dinner offerings - Startup Getaway includes three daily meals as well as cleaning in its cost - Andrea and I watch the Sun turn shades of pink from Mailbird's second-floor office.
I ask her if she would ever consider returning to the corporate world.
"That would be a very, very tough thing to do," she says.
Related Internet Links
The BBC is not responsible for the content of external sites.