US tells China it must allow its currency to strengthen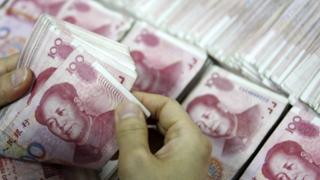 The US has told China its currency must be allowed to rise if it and the global economy are to see stable growth.
The US Treasury's twice-yearly report to policymakers says the yuan is "significantly undervalued".
Unlike the euro and the dollar, the value of the yuan is not set by the market but is kept within certain limits of other world currencies.
The US has long argued that the bands are set too low, making Chinese goods cheaper on the world market.
China had allowed the yuan - also known as the renminbi - to rise, but the report said this had not gone far enough. It also noted that "China has continued large-scale purchases of foreign exchange in the first quarter of this year, despite having accumulated $3.8 trillion in reserves, which are excessive by any measure."
'Consumption'
China's leaders are in the process of moving away from reliance on a manufacturing driven economy to one where its own consumers also play a part.
The US believes a stronger Chinese yuan will help achieve that by making foreign imports cheaper.
In its semi-annual report to Congress, the US Treasury said: "A stronger RMB would support domestic consumption by increasing the purchasing power of households, and encourage a shift from tradable goods production to production of domestically-oriented goods and services.
"A market-determined exchange rate would allow China to reduce its intervention in the foreign exchange market and give Chinese authorities greater control over liquidity creation and domestic monetary policy."
The report covers international economic and foreign exchange developments in the second half of last year, and, where relevant and available, includes data up to the end of March this year.