Credit Suisse rebuffs foreign exchange probe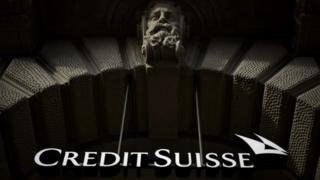 Swiss bank Credit Suisse has found nothing "materially untoward" in how it trades foreign currencies, finance officer David Mathers has said.
Credit Suisse has faced scrutiny from regulators over alleged collusion to manipulate foreign exchange rates.
Mr Mathers made the comment following the publication of the bank's first-quarter results.
Credit Suisse profits dropped by 34% after a fall in revenue from its investment banking business.
The bank's net profit fell to 859m Swiss francs (£583m; $977m)) from 1.3bn Swiss francs the year before.
Foreign exchange probe
Mr Mathers' comments came after the Swiss competition commission, Weko, said it was investigating eight British, US, and Swiss banks over allegations that traders colluded to set foreign exchange rates to make large profits.
Credit Suisse said at the end of March that it was "astonished" to have been included in the investigation, and that it had not been included initially.
The firm is also the subject of another investigation by US officials, including New York financial regulators, into potential evasion of taxes by clients.
'Strong' first quarter
Credit Suisse chief executive Brady Dougan said that in the first quarter, the bank had a "strong performance" with improved profitability in private banking and wealth management.
The firm had seen "a meaningful increase in the share of assets under management from ultra-high-net-worth clients", Mr Dougan said.
Group net revenues fell 8% to 6.47bn Swiss francs after its investment banking division faced a "challenging market environment", the company said.