Tencent brings popular game Candy Crush to China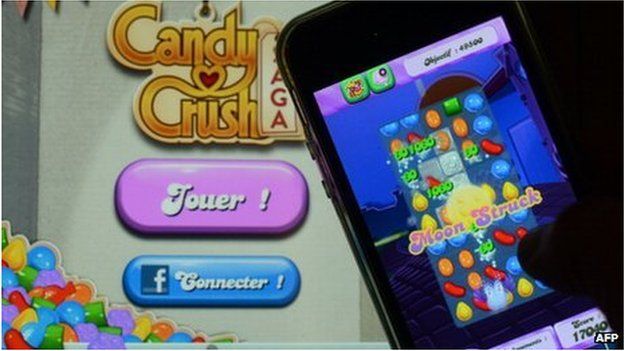 China's internet giant Tencent will launch the popular Candy Crush game on the mainland in a partnership with the game's creator.
The tie-up will give the UK-based King Digital Entertainment exposure to China.
The Chinese version of the Candy Crush game will be available by the middle of this year to customers of Tencent's Mobile QQ and Weixin Game Centers.
Candy Crush was the most downloaded free mobile app of 2013.
The alliance will help Tencent, China's biggest listed internet firm, attract more users to its online and mobile services, which include social media platforms.
China has the world's largest population of internet users. According to the country's Internet Network Information Centre, CNNIC, there were 618 million internet users at the end of 2013.
Tencent is fighting for market share at home with rival Alibaba Group, which is expected to launch a share sale in the US later this year.
Steven Ma, senior vice-president at Tencent said: "We are excited that our collaboration will combine King's enjoyable mobile gaming experience and Tencent's strong game publishing and operation capabilities in China. We are looking forward to bringing great moments of fun to Chinese users soon."
Meanwhile, King's chief executive Riccardo Zacconi said in a statement: "Tencent has the largest mobile social network in China and is a great partner to work with. I look forward to working together to make Candy Crush Saga as popular in China as in the rest of the world."
The partnership with Tencent will further extend King's presence in Asia. It launched its Candy Crush game in Japan and South Korea last year.
The company's portfolio includes more than 180 games, but only a few have been popular with users.
Its top three games - Candy Crush Saga, Pet Rescue Saga and Farm Heroes Saga - accounted for 95% of its total revenue in the fourth quarter of 2013.
The company launched an initial public offering in March, listing its shares on the New York Stock Exchange. Shares fell by as much as 15% on their debut trading day.
King Digital Entertainment raised $500m (£300m) after shares were priced at the mid-point of the range it had initially indicated, valuing the company at more than $7bn.
The company is due to report its first quarter results next month on 7 May.
Related Internet Links
The BBC is not responsible for the content of external sites.