Remy Cointreau blames profit fall on China sales fall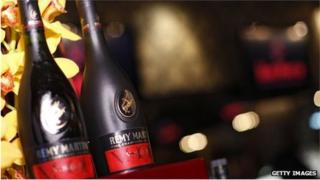 French spirits company Remy Cointreau has warned its full-year operating profit will fall by 35-40%.
It has been hit by a Chinese government crackdown on extravagant spending, which has hit sales of spirits.
Remy said sales of cognac fell 32% in the final quarter of last year, following a 30% drop in cognac sales in the third quarter.
In the year to March, overall sales fell by 13.5% to 1.03bn euros ($1.4bn; £800m).
In its earnings statement, the company said it "was adversely affected throughout the financial year by the Chinese government's anti-extravagance policy, which had a negative impact on the consumption of premium spirits".
"Furthermore, the decline in sales was intensified by the group's desire to reduce inventory levels in its Chinese distribution channels."
Remy Cointreau and its rivals in the global drinks market, such as Diageo and Pernod Ricard, have been experiencing a drop in sales due to a tightening of rules in China over gift giving by officials.
An anti-corruption drive by the Chinese government in 2013 meant that giving expensive items to officials - which has long been a part of the political culture - became prohibited.
In addition to the Remy Martin cognac, the company is also the maker of Cointreau liqueur and Mount Gay Rum.
The company said it saw an increase in sales in Europe, while in the US it reported "sustained growth" in the year to March. Markets in Japan, Russia and Africa also showed strong growth.
Shares in Remy Cointreau opened down more than 6% on the Paris market.
Diageo also issued a trading update on Thursday, where it revealed sales in the Asia Pacific region had fallen 19% in the three months to March from a year earlier.