Halliburton reports $622m profits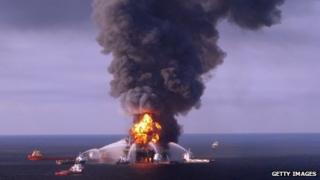 US oilfield firm Halliburton has reported better-than-expected first quarter profits, helped by robust drilling activity in Russia, Saudi Arabia and Angola.
The company said net income for the three months to the end of March was $622m (£370m).
That compared with a loss of $18m in the same quarter a year earlier.
Those losses included a pre-tax charge of $1bn for Halliburton's part in the 2010 Gulf of Mexico oil spill.
It was one of the contractors working for BP, owner of the Deepwater Horizon oil well that blew out, causing the worst offshore oil spill in US history.
Halliburton has been making a big push overseas to combat weakness in its North American market.
The company said drilling activity in North America had fallen because of weak natural gas prices, which had led to greater competition among oilfield services providers for a smaller number of contracts.
Lower prices for pressure pumping services, higher logistics costs and disruptions in drilling due to the heavy winter weather weighed on Halliburton's operations in North America.
Overseas expansion
But stronger activity in overseas oilfields helped Halliburton offset weakness in North America, as well as in Latin America.
Revenue and operating income increased 13% in the Middle East and Asia, while in Europe, Africa and the former Soviet Union, revenue was 9% higher and operating income rose 21%.
In Latin America, revenue fell 9%, while operating income declined 8% because of reduced drilling activity in Brazil and Mexico.
Halliburton forecast a 25% jump in earnings in the second quarter, helped by a recovery in profit margins in its main North American market and continued growth overseas.
Shares in the oil company rose 3.8% to $62.79 on the New York Stock Exchange.
Halliburton chief Executive Dave Lesar said: "Our strategy is working well and we intend to stay the course,
"I am optimistic about our ability to grow our North America revenue and margins, and to realise industry-leading revenue and margin growth in our international business,"