Qualcomm shares dip on weak outlook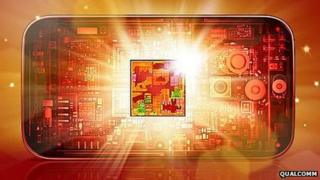 Shares in Qualcomm, one of the world's biggest chipmakers, fell 5% in after hours trading as it issued a weaker than expected growth outlook.
It has forecast sales of between $6.2bn and $6.8bn (£3.7bn - £4bn) for the April to June quarter.
The low end of that estimate represents a decline of 1% from a year ago.
The firm also disclosed that it could face enforcement proceedings from US regulators over a bribery investigation into its dealings in China.
Qualcomm had reported in November that China's National Development and Reform Commission was investigating it in relation to the country's anti-monopoly law.
At the time the firm said that it was "not aware or any charge" by the regulators that it had broken the law.
The weak forecast and disclosure of potential action from the US Securities and Exchange Commission come as the firm reported its earnings for the three months to 30 March.
Its revenue rose to $6.37bn during the period, up 4% from a year ago, with net profit up 5% to $1.97bn.
Despite the weaker than expected outlook for the current quarter, the firm raised it forecast for full-year profit.
It now expects to make a profit of between $5 and $5.25 per share, five cents above its earlier projection.