South Korea economic growth beats forecasts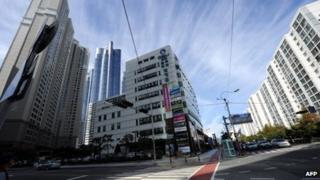 South Korea's economy grew more than forecast in the first quarter, helped by a jump in construction and exports.
Asia's fourth-largest economy expanded by 3.9% in the January-to-March quarter from a year earlier. Many analysts had forecast growth of 3.7%.
Compared with the previous three months, the economy grew by 0.9%.
Analysts said a recovery in key markets such as the US had helped South Korea's exports sector - one of the biggest drivers of the economy.
They said the trend was likely to continue, helping to boost growth further in the coming months.
"Advanced economies are expected to recover quickly, leading to better exports, which will also influence domestic spending," said Im No-jung, chief economist at IM Investment & Securities.
"Judging from the data, growth will pick up towards the latter half of the year and the economy will probably grow about 4.1% this year."
According to the latest data from the country's central bank, the Bank of Korea, exports rose 1.7% from the previous quarter.
Meanwhile, construction investment rose 4.8% during the first quarter from the previous three months. That compares with a 5.2% drop in the October-to-December quarter.
Some analysts also suggested that the better-than-expected growth numbers may lead the central bank to raise interest rates later in the year.