UK property sales continue to pick up, says HMRC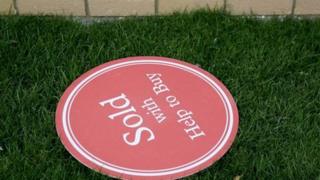 UK property sales were 19% higher in March than the same month a year ago as buyers continued to return to the market, figures show.
There were 94,080 transactions in the UK, according to HM Revenue and Customs (HMRC), which also signalled a steady rise in sales during the year so far.
Transactions increased in England, Scotland and Wales compared with February.
The first months of the year are generally a slow period for sales.
However, the seasonally-adjusted data published by HMRC suggested that the first three months of the year was the busiest since early 2008.
Yet sales still remain significantly below the levels seen during the housing boom. Many commentators have suggested demand coupled with a shortage of homes on the market have led to the rising prices seen over the last year.
In the Budget, Chancellor George Osborne confirmed plans to extend the first phase of Help to Buy, which was launched in England last spring, until the end of the decade.
This is aimed at increasing the supply of newly-built homes, with the second phase of the scheme designed to help those with a regular income, but little in savings, to get on the housing ladder.
Changes to UK mortgage rules, coming into force on Saturday, could reduce some demand from buyers who may find that an application takes longer to process, or a home loan becomes harder to secure.
The rules, which have already been implemented by many lenders, are aimed at reducing the likelihood of excessive borrowing, which many people argue created an unsustainable housing boom during the last decade.